Ohio State win confirms it: Indiana is for real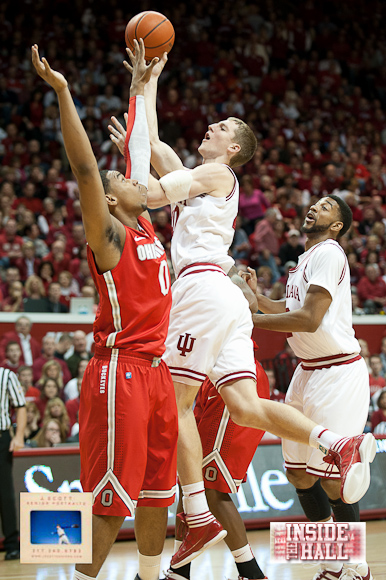 Indiana shocked the nation when it pulled a 73-72 upset against then-No. 1 Kentucky on Dec. 10.
But not everyone was convinced the Hoosiers belonged amongst the country's elite teams.
"He [Christian Watford] just hit a lucky shot," Kentucky's Doron Lamb said after the game.
The No. 15 Hoosiers' 74-70 win against No. 2 Ohio State on Saturday night should eliminate the remaining doubters.
This team is for real.
"Give all the credit to Indiana," said Ohio State star Jared Sullinger. "They played hard, and they got the 50-50 balls. They made us turn the ball over. Indiana played a great basketball game."
Some of the shock factor is gone this time around because we've seen the Hoosiers do it before. But that doesn't make this win any less impressive or significant.
The Hoosiers matched and sometimes exceeded the physicality of one of the nation's most physical teams. They matched big Ohio State shots with bigger ones of their own. And they won a game in which they didn't have Cody Zeller (fouled out) or Will Sheehey (left foot injury) down the stretch.
The win against Kentucky, by itself, could have been a fluke. Saturday's night's performance proves it wasn't.
"Everyone is being asked to contribute a little more, especially defensively and minutes-wise when you have a player like Sheehey out," said Indiana coach Tom Crean. "They did it. They never flinched when we were down throughout the game, especially the last five or six minutes. They made plays."
Jordan Hulls made plays.
He looked as good as he ever has in the second half on Saturday, and he helped will the Hoosiers to victory. After Lenzelle Smith Jr. hit a 3-pointer in his face to put the Buckeyes ahead late, Hulls went down and hit an even deeper one in the face of William Buford.
Christian Watford made plays, even though he shot just 3-of-10 from the field. His late rebound and clutch free throws clinched the game for the Hoosiers.
Victor Oladipo made plays throughout. His two steals and dunk late in the first half completely changed the momentum of the game.
Zeller made plays, even though he played only four minutes in the second half. Remy Abell was huge defensively off the bench on Aaron Craft. Derek Elston guarded Sullinger as well as anybody when Zeller and Tom Pritchard were out.
And Verdell Jones, who has been here through it all, made plays. He had 15 points, six rebounds and three steals while playing with a hip flexor. His late steal and pass ahead to Oladipo gave the Hoosiers a lead they wouldn't relinquish.
When asked how this year's Indiana team is different than last year's, Ohio State coach Thad Matta gave a typical answer.
"Obviously, with the addition of Zeller inside and they've got depth, he's a great player," he said.
Yes, Zeller makes a humongous difference for this team. But it's not just about him. It's about guys like Jones that, like Crean, have turned Indiana back into a program capable of knocking off the No. 1 and No. 2 teams in the same month.
"He's a grown man. I'm proud of him, and all those seniors," Crean said, getting choked up like I haven't seen before. "It's really something. They have persevered. … Couldn't be happier for those guys."
The next step for the Hoosiers is to win a game against an elite opponent on the road. They'll have a chance in less than two weeks when they visit these same Buckeyes.
Until then, though, they can take in the new year knowing they are indeed a legitimate contender in college basketball.
Only they could have predicted that.
Filed to: Jared Sullinger, Ohio State Buckeyes, Tom Crean