What to Expect: Ohio State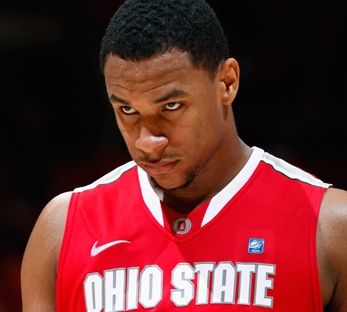 Following a tough loss on Wednesday at Michigan State, Indiana returns to Assembly Hall for a showdown with No. 2 Ohio State.
The game will be shown on ESPN2 (Dave O'Brien and Dan Dakich) and broadcast on the IU radio network (Sirius 128/XM 191):
For the second (and most likely last) time this season, the Hoosiers will take Branch McCracken floor as underdogs on Saturday evening. Ohio State has overtaken Michigan State as the Big Ten's top program with four regular season titles and three conference tournament titles over the past six seasons. The Buckeyes are once again the heavy favorite to win the Big Ten thanks to Jared Sullinger's decision to return to Columbus for his sophomore season.
MEET THE BUCKEYES
Ohio State comes to Bloomington sporting a 13-1 mark and their lone blemish came at Kansas on Dec. 10 without Sullinger in the lineup. Sullinger (16.3 ppg, 9.6 rpg), who is now healthy, is once again the centerpiece of Thad Matta's team and his ability to dominate a game in the paint is unmatched in the conference. He currently ranks as the nation's top defensive rebounder (34.4 DR%) and sits in the top 60 in fouls drawn per 40 minutes (6.7).
Perhaps equally as dangerous, at least offensively, are senior William Buford (16.6 ppg, 41.4% from 3) and sophomore Deshaun Thomas (15.9 ppg). Buford is coming off his best game of the season — 28 points in a 87-54 win over Northwestern on Wednesday — and is a guy Indiana can't afford to lose on the perimeter. Even if he's not hitting from behind the 3-point line, Buford's midrange game is already NBA-ready.
Thomas' role has increased significantly as a sophomore and thanks to efficiency from inside the 3-point line (62.5 percent on 2s), he finds himself as one of three Buckeyes scoring over 15 points per game. Given his size and athleticism, Matta would probably like to see more effort on the glass from Thomas. His defensive rebounding percentage (8.7) is mediocre.
Sophomore point guard Aaron Craft will probably draw the Jordan Hulls assignment and his ability to lockdown the perimeter may be unmatched in the league. Craft isn't much of a threat to score, but his steal percentage (5.3) is 11th in the country and his assist rate of 28.4 is top ten in the conference.
Beyond those four contributors, the Buckeyes are playing just two others — sophomore guard Lenzelle Smith and sophomore guard Jordan Siebert — more than 15 minutes per game. Their heralded four-man freshman class has been largely unused and is averaging a combined 9.6 points per game.
POMEROY PREVIEW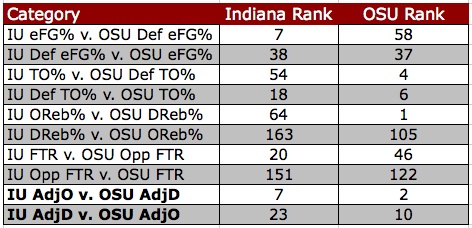 Unlike the Kentucky game where the Hoosiers were able to take advantage of some undisciplined work on the defensive glass from the Wildcats, second-chance points for IU will be at a premium Saturday night. Ohio State is the nation's best defensive rebounding team. Two of their worst performances on the defensive glass came without Sullinger in the lineup. Toss those games out and their numbers would be even more impressive. The Buckeyes are corralling 77.6 percent of their opponents misses.
Turnovers will also be a concern for Indiana. Ohio State's defensive turnover percentage (27.6) is fourth nationally. While coughing up the ball hasn't been much of a problem thus far for IU, they did turn it over at a high rate (a season-high 25.7%) against a comparable defense in Kentucky. That was largely negated thanks to Kentucky turning it over at a high rate as well, but that's not likely to be the case with Ohio State.
With another difficult matchup inside for Cody Zeller looming, the key for Indiana is going to be hitting 3s at a high rate. The Hoosiers are shooting 45.1 percent from behind the arc, which is the nation's best mark. Finding a way to free Jordan Hulls from the suffocating pressure of Craft for some open looks could determine how close this game stays.
IT'S A PARTY
Just in case you didn't watch this last season, it's required YouTube viewing. Particularly Craft hitting the high notes:
QUICK FACTS ON OHIO STATE
All-time series: Indiana leads 101-77
Location: Columbus, Ohio
Student Enrollment: 56,867
Established: 1870
Filed to: Jared Sullinger, Ohio State Buckeyes