After a tuneup on Sunday against Stetson, the Hoosiers are back in Assembly Hall on Saturday evening for a meeting with No. 1 Kentucky. The game will be shown on ESPN and broadcast on the IU radio network (Sirius 92/XM 190):
The stage is set. 17,000 screaming fans. Dan Shulman and Dick Vitale on the call. And the nation's most talented team on Branch McCracken Court opposite the Hoosiers.
This is what college basketball is all about.
Indiana has passed all eight of its early season tests with relative ease. They've dismantled less talented opponents. They took a punch from Butler in Assembly Hall and responded with a punch of their own to run away late. And they've won on the road twice.
But this is different.
This is IU's first test against an elite team. It's an opportunity to learn just where the Hoosiers stand in a game that will have the eyes of the nation. Some national experts are already predicting an IU win. Is the basketball Hoosier fans have so desperately craved over the past three plus seasons finally back in Assembly Hall? We'll know the answer on Saturday.
POMEROY PREVIEW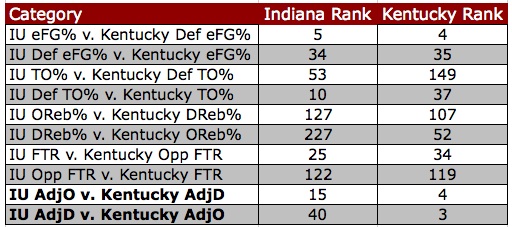 A lot of impressive numbers on this chart for both programs. For the Hoosiers, it'll be interesting to see if the hot shooting (58.0 eFG%) continues against one of the country's best defensive teams (37.5 eFG% allowed). Points are going to be extremely difficult to come by in the paint for IU as Kentucky is allowing opponents a 2-point field goal percentage of just 33.2 and the Wildcats' block percentage of 25.8 is tops in the nation.
A couple of other areas that will be key for Indiana: Keeping Kentucky off the offensive glass. This is going to be a topic of conversation going into most games until the Hoosiers produce a few stellar defensive rebounding performances. Indiana cannot afford a first half defensive rebounding performance like the one produced in Raleigh.
Tom Crean has put an emphasis on getting to the line more frequently — 24.3 percent of IU's points come on free throws — but Kentucky's opponent free throw rate has been low to this point. Two things to remember: 1. Free throws, more so in this game than any thus far, are going to be among the highest percentage shots available. 2. If Indiana can draw some fouls and get into UK's bench, that's a positive.
THE ATMOSPHERE
If Indiana stands any chance of knocking off the No. 1 team in America, the energy and noise inside Assembly Hall must become a factor. If Camp Crean is any indication, the students seem poised to make this the best atmosphere since the Duke game in 2005.
On the flip side, how will Kentucky handle playing in a hostile environment for the first time this season? Kentucky beat Kansas on a neutral court at Madison Square Garden and North Carolina at home, but they've yet to play a true road game. It bears watching how a group starting three freshman and two sophomores will respond to adversity away from home.
RECRUITS EXPECTED
A pair of recruits — 2012 signee Jeremy Hollowell and 2014 commitment Trey Lyles — will likely be in attendance.
In addition, 2014 Evansville Bosse guard JaQuan Lyle will make the trip to Assembly Hall per his Twitter account.
QUICK FACTS ON KENTUCKY
All-time series: Kentucky leads 31-23
Location: Lexington, Kentucky
Student Enrollment: 27,209
Established: 1865
Filed to: Kentucky Wildcats