Where they stand: A player-by-player breakdown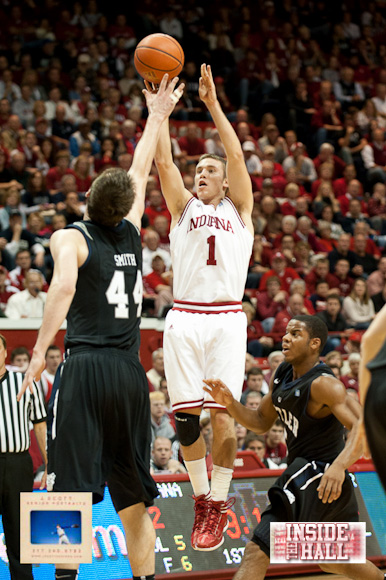 With seven games in the books, it's time for a player-by-player look at how the 2011-2012 Hoosiers have fared to date. We'll break down an area where each player has excelled as well as an area for improvement. The roster is listed in order of average minutes per game:
Jordan Hulls 
– Where he's excelled: This is finally Jordan Hulls' team to lead. And the benefits of having a player with his efficiency have been on full display early in the season. The Bloomington native is playing the best basketball of his career through seven games. He's contributing big in three pivotal areas: vocal leadership, perimeter shooting and taking care of the ball. Two statistics that stand out: a 2-to-1 assist-to-turnover ratio and 56.5 percent on 3's.
– Where he can improve: The junior guard has made 52 consecutive free throws, but only has 11 attempts from the line through seven games. If Hulls can get to the line more frequently, his value increases even more. His defense has improved, but it must continue to progress as opponents become quicker and stronger.
Cody Zeller 
– Where he's excelled: All of the talk of Zeller needing time to adjust to the rigors of the college game has gone silent as he's been Indiana's most reliable scorer (15.6 ppg on 68.5 percent shooting) and rebounder (7.6 per game). He's taken hard fouls, double teams and even chants of "Tyler's better," down in Evansville. Through it all, his composure and business-like approach to the game have been remarkable for a freshman. He's also got 17 steals.
– Where he can improve: It's tough to pinpoint a negative, but finishing better through contact is one potential area of improvement.
Verdell Jones
– Where he's excelled: Jones leads the Hoosiers with 26 assists (1.3-to-1 assist-to-turnover ratio), is shooting better from the perimeter (eFG% of 50) and for the most part, his decision making and defense have been solid. His 3-point shooting is also better (4-of-7), but all four of those makes came at Evansville.
– Where he can improve: The senior guard still struggles when he takes it upon himself to make a play that isn't there. Whether it be dribbling with his head down or getting stripped on his way to the basket, Jones must tighten up with his ball handling.
Christian Watford 
– Where he's excelled: Watford is no longer IU's primary option on offense, but he's still an effective piece of the equation. He's second on the team in rebounding (5.1 per game) and his effort and maturity are on the rise. Case in point: his second half performance on Wednesday night in Raleigh. Watford is shooting 45 percent on 3's and 19-of-23 from the foul line.
– Where he can improve: Like Zeller, Watford must continue to work on finishing through contact around the basket.
Victor Oladipo 
– Where he's excelled: The sophomore wing is second on the team in offensive rebounds and his prowess on defense has given Tom Crean the confidence to assign him to the opponent's best perimeter player. There's no doubt Oladipo relishes the challenge of drawing that assignment. His ability to get the home crowd on its feet and into a frenzy is also invaluable.
– Where he can improve: Shot selection has been a question mark for Oladipo, who is shooting 56 percent on 2's, but just 22.2 percent on 3's. He's most effective attacking the rim, getting to the line and not settling from the perimeter.
Will Sheehey 
– Where he's excelled: Arguably the most improved player on the roster, Sheehey is second on the roster in scoring (with an eFG% of 59.2) despite being sixth in minutes. The work he put in during the offseason has given him the confidence to assert himself immediately off the bench.
– Where he can improve: Sheehey still gets lost at times, particularly on the defensive glass and with help defense.
Derek Elston
– Where he's excelled: Elston is moving far better than he did a season ago and he's knocking down shots at a high rate. It's tough to imagine him continuing to shoot such a high percentage (eFG% of 70.3), but so far, so good.
– Where he can improve: The Tipton native has struggled with consistency — he's scoreless over IU's last two games and has just two rebounds in a total of 22 minutes. To warrant the title of seventh starter, Elston must offer more than just scoring.
Tom Pritchard
– Where he's excelled: Pritchard's role has diminished significantly, but he's accepting it and playing hard, which might not be the case with most players faced with similar circumstances.
– Where he can improve: It's too small of a sample size, but given his track record, Pritchard's 7.3 fouls per 40 minutes is still concerning.
Daniel Moore
– Where he's excelled: The Carmel native, who is on scholarship for his senior season, has been effective as a perimeter defender.
– Where he can improve: It's tough to pick a bone with a former walk-on like Moore, but an occasional shot fake to keep defenders honest seems like a fair suggestion.
Remy Abell 
– Where he's excelled: Abell's performance in Wednesday's game at North Carolina State (five points, including a key 3-pointer) was easily his most important contribution thus far. Abell has shown flashes of his ability to get into the lane and stay in front of ball handlers.
– Where he can improve: The freshman guard hasn't been particularly effective shooting from the field (40 percent) or the foul line (58 percent).
Matt Roth 
– Where he's excelled: Roth's value lies exclusively as a 3-point specialist and so far, all 12 of his attempts have come from behind the arc. If he makes 40 percent, he'll continue in this role.
– Where he can improve: The senior has struggled for most of his career defending quicker players and even in spot duty, he must work on better defensive positioning.
Austin Etherington 
– Where he's excelled: As the twelfth man in the rotation, Etherington, like Roth, appears to be slotted in as a 3-point specialist. He's hit 2-of-4 attempts.
– Where he can improve: Also like Roth, Etherington must adjust to the speed of the game, particularly on defense.
Filed to: Christian Watford, Cody Zeller, Jordan Hulls, Verdell Jones