Butler's Stevens impressed by Hoosiers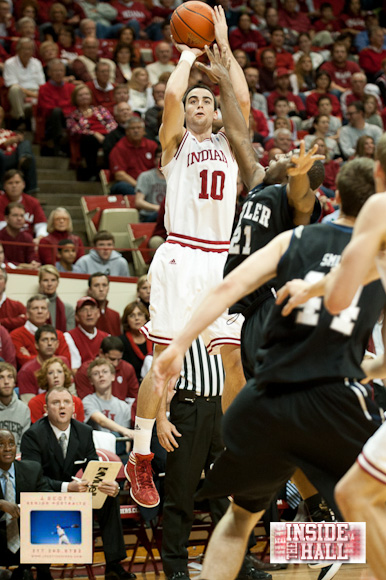 It appears to be a down year for Butler basketball.
After losing to Northern State in an exhibition game and Evansville early in the regular season, it's easy to see this isn't the same Bulldog team that made back-to-back runs to the national title game.
But Butler coach Brad Stevens knows good basketball when he sees it. His Bulldogs faced the likes of Syracuse, Michigan State, Duke, Connecticut and others in the last two NCAA Tournaments.
What Indiana did to Butler in its 75-59 win Sunday night, Stevens said, was good basketball.
"They do a good job. They've got a nice team," he said. "[Jordan] Hulls is a really good player, probably as undervalued as anybody that I've seen. He understands the game, he makes people better, he makes the right decisions at the right time and just generally controls the game.
"And then obviously they've got a bunch of talented scorers. When [Will] Sheehey and those guys are shooting it like they shot it tonight, that's a hard team to beat."
THE SIXTH MAN
Sheehey led the Hoosiers with a career-high 21 points on 5-of-8 shooting, and he came off the bench. After Sheehey drew the Bulldogs outside with his 3-point shooting, he used shot fakes to get open mid-range looks.
Hulls also hit two 3-pointers, and Matt Roth came off the bench to knock down a big 3 early in the second half.
"When those guys get going, that's what they do well," Stevens said. "They shoot it, and when they feel good, they really shoot it."
PRITCHARD
The scary thing is the Hoosiers didn't actually shoot it very well for much of the game. They made only 8-of-25 shots in the first half and shot just 40 percent for the game.
They made up for it with hustle plays – several of which came from the sparingly used Tom Pritchard.
"I was talking to our guys about how much I appreciated Pritchard," Stevens said. "Pritchard got on the floor a couple times for loose balls and did really hard things. He's a guy that doesn't play anymore versus what he used to do. I appreciate that because there's been a lot of tough things that that kid's been through. Now he's really embracing his role and doing a good job."
Pritchard played only nine minutes, didn't take a shot, record a point or a rebound, but he made the most of his time on the court with two steals. He even had the student section chanting his name at one point.
"There were definitely a lot of hustle plays, like coach said, Pritchard diving on the ball when we could have got on the ball," said Butler forward Khyle Marshall, who had 16 points.
FIRST TEST FOR ZELLER
Indiana freshman Cody Zeller had his way against the first five opponents this season. He scored when he wanted to, rarely missed a shot, and appeared to intimidate the opposition.
That changed Sunday night. Butler's Andrew Smith provided the first legitimate inside matchup for Zeller, and the Washington, Ind. native struggled early.
But Zeller didn't let it bother him. He found his rhythm in the second half and still finished with 16 points and eight rebounds.
"He's a good player. He's a really good player," Stevens said. "He's a guy that can score around the rim, he can shoot it. Even though he shot the one short, he can really shoot.
"I think he's probably as unselfish a guy as you can have. To have a star come in and be unselfish is a really important thing. If he wasn't that way, it wouldn't be as easy for them to want to go to him all the time."
Filed to: Brad Stevens, Butler Bulldogs