What to Expect: Evansville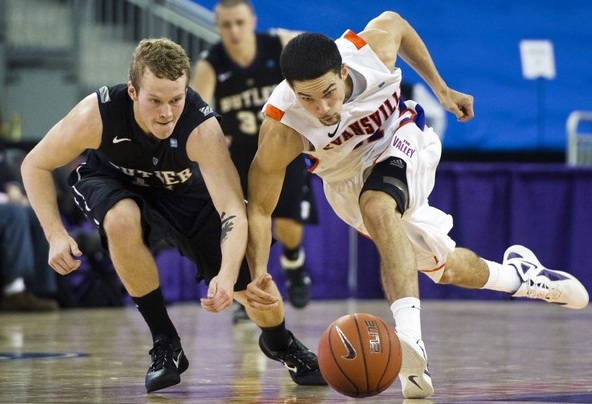 (Photo credit: CourierPress.com)
Indiana will make the 135-mile trip southwest to Evansville on Wednesday night for its first road test of the season in the Purple Aces' brand new $127 million Ford Center.
Here's a look at what to expect out of Evansville, who finished last season 16-16 and fell to the Hoosiers 67-54 in Assembly Hall:
RYAN LEADS FOUR RETURNING STARTERS
Junior guard Colt Ryan, a former AAU teammate of Jordan Hulls, is one of four returning starters for fifth-year coach Marty Simmons. The Batesville product is arguably the best shooter in the Missouri Valley Conference and will be a key matchup for the Hoosiers on the perimeter. Ryan knocked down close to 41 percent of his 3-point attempts and shot 87 percent from the foul line as a sophomore. He scored 23 points in Evansville's season opening win over Butler in overtime, but shot just 4-of-15.
Forward Kenny Harris is expected to anchor the frontcourt for the Purple Aces. The 6-foot-6 senior will give up a couple of inches to IU on the frontline, but was one of the top 10 defensive rebounders in the Missouri Valley Conference last season. Beyond Harris, Simmons has little returning experience or size in the paint. Senior guard Denver Holmes (7.8 ppg) and junior guard Ned Cox (7.3 ppg) should also play significant roles.
ACES A MIXED BAG ON DEFENSE
Evansville's defensive turnover percentage a season ago — 22.3 — was the 52nd best mark nationally. But when their opponents weren't coughing up the ball, the Purple Aces were allowing one of the country's worst effective field goal percentages. Evansville opponents shot an eFG percentage of 52, which ranked 297th nationally. They were woeful guarding inside the 3-point line (51.6 percent allowed from 2-point range), which could bode well for the Hoosiers if they're able to establish Cody Zeller or Christian Watford down low early.
And somewhat similar to IU last season, Evansville had a tough time keeping opponents off the foul line. The Purple Aces' opponent free throw rate ranked 267th nationally. That was mostly negated by Evansville getting to the line at the 18th best rate in the land. With both teams fouling at a frequent rate, this game could turn into a free throw contest. In Saturday's opener, Evansville and Butler shot a combined 67 free throws.
LOTS OF TWO'S, BUT NO OFFENSIVE BOARDS
Unlike Chattanooga, Evansville (sans Ryan) doesn't hoist up many shots from behind the 3-point arc. Only 26 percent of the Purple Aces' field goal attempts last season were 3-pointers. That was 317th in the country.
But even with an attack mostly concentrated inside the arc, Evansville is a poor offensive rebounding team. Their offensive rebounding percentage of just 25.6 ranked 326th nationally. Besides the aforementioned Harris, the Purple Aces don't return a single player that ranked in the top 40 in the Missouri Valley Conference in offensive rebounding percentage.
PROTECTING HOME COURT 
Evansville opened the Ford Center on Saturday with an upset win over Butler and dating back to last season, the Purple Aces are 13-3 over their last 16 home games. The Butler game did not sell out, but Evansville has already announced a sellout for Wednesday.
Indiana last won away from Assembly Hall on January 21, 2010 at Penn State, which is the only road win of the Tom Crean era.
QUICK FACTS ON EVANSVILLE
Arena: Ford Center (11,000)
Student Enrollment: 3,050
Established: 1854
Notable Sports Alumni: Jerry Sloan (former Utah Jazz coach), Andy Benes (former MLB all-star pitcher)
All stats in this piece via KenPom.com.
Filed to: Evansville Purple Aces