adidas Invitational: Day One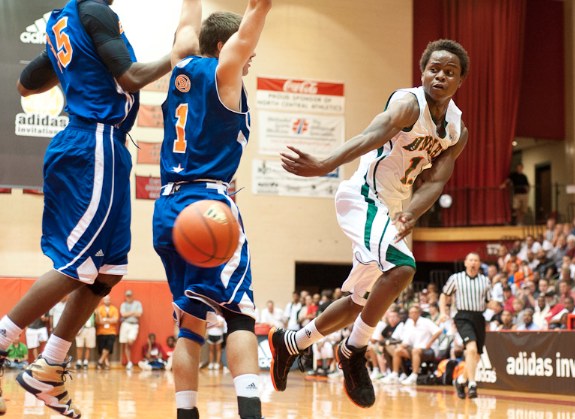 Inside the Hall spent the opening day of the live July evaluation period at the adidas Invitational in Indianapolis. Our recap and notebook from day one follows. Photo courtesy of Jamie Owens of J. Scott Sports.

— Tom Crean was front and center for Indiana Elite's opening game against guard Shabazz Muhammad and Dream Vision. Elite built a 16-point lead, but couldn't hold off a brilliant effort by Muhammad, the country's No. 1 player. Jeremy Hollowell paced Indiana Elite with 23 points in the 80-73 loss, Hanner Perea had 14 and Yogi Ferrell added six. Afterward, Ferrell blamed sloppy ball handling as a primary reason that Elite was unable to hold the lead. Muhammad finished with 39 points.
— Elite bounced back from the loss with a 81-73 victory over Connecticut Basketball Club, which features the country's top big man, Andre Drummond. Ferrell was strong as both a playmaker and a scorer (15 points), Hollowell put up another twenty-point effort with 23 and Hanner Perea had seven, but four of those came on thunderous dunks that brought the Indiana fans on hand to their feet. The second dunk drew a questionable technical foul on Perea that was his fifth foul. Indiana assistant coach Tim Buckley was in attendance for this game as was Connecticut's Jim Calhoun, Texas' Rick Barnes and Xavier's Chris Mack.
— 2013 commitment Collin Hartman caught fire from the perimeter and finished with 22 points in an afternoon win over the Atlanta Celtics. Eric Gordon All-Stars coach Matt Green said Hartman is becoming more assertive in looking for his offense in recent weeks. Hartman's teammate, Devin Davis Jr., had 10 points in a morning win over New Heights and four points in the Atlanta Celtics win. Green said he sees Davis Jr. ultimately playing the four in college.
— 2013 New Haven wing V.J. Beachem still claims offers from just Butler and Purdue, but told reporters he's very interested in Indiana. Beachem has always been labeled as a "potential" guy, but is beginning to show signs of putting things together.
— Buckley, Mack, Michigan State's Tom Izzo, Illinois' Bruce Weber and an assistant from Notre Dame were among those that made the drive to Westfield High School to watch 2013 point guard Demetrius Jackson. The Mishawaka Marian junior-to-be did not disappoint as he scored 21 points in a 67-65 loss to Team Southern Indiana. Crean caught a portion of Jackson's evening game against Spiece Indy Express at Westfield.
— 2013 Detroit Chandler Academy point guard Derrick Walton Jr. told Inside the Hall he's hearing from Indiana and would like to set up a visit to Bloomington. Buckley watched Walton Jr. go head-to-head with Fishers point guard Jaylon Brown at Westfield. Both guards scored 11 points in their matchup, but Brown's team, Martin's Wolverines, won the game.
— 2014 big man Jarred Reuter is playing two years up with the NE Playaz, but the 6-foot-8, 250-pound sophomore-to-be is already physical enough to hold his own. Reuter, who was unable to speak with the media after a 56-38 win over the Compton Magic Elite, already holds an IU offer.
— Indiana, Michigan State and Purdue are already beginning to show interest in 2015 Indianapolis Cathedral guard Jalen Coleman, who is playing up with the Eric Gordon 15-and-under team that also features Greensburg's Bryant McIntosh, North Central's Perry Poindexter and Greensburg's Sean Sellers. Coleman, a 6-foot-2, 155-pound guard, has already taken an unofficial visit to Bloomington and Poindexter, a 6-foot-6 forward in the 2014 class, said he hopes to visit Indiana after the July AAU schedule concludes.
— 2014 Park Tudor wing Trevon Bluiett gave Inside the Hall a school list of Indiana, Purdue, Michigan, Michigan State, Virginia, Virginia Tech, Florida and Texas. Bluiett was lights out from just about everywhere on the floor and finished with 29 points in a 59-54 Spiece Indy Heat win over Garder Road Elite at Westfield. Buckley, Michigan State assistant Dane Fife and Ohio State assistant Jeff Boals were all in attendance.
— 2014 Evansville Bosse wing Jaquan Lyle was relatively quiet from a scoring standpoint in his debut for Spiece Indy Heat and mentioned Michigan State and Ohio State as the schools "showing the most interest" right now.
Inside the Hall will have more from the adidas Invitational, including video, video interviews and player evaluations in the coming days.
Filed to: 2011 adidas Invitational