Report: Cheaney will likely join Indiana basketball staff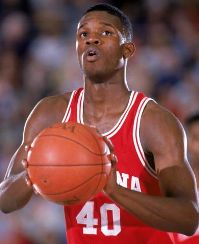 Calbert Cheaney is reportedly headed back to Bloomington.
The Big Ten's all-time leading scorer will likely join the Indiana staff in an operations position, according to Rick Bozich of The Louisville Courier-Journal.
Indiana coach Tom Crean has not offered any official word on Cheaney, but did make a statement:
"I'm not ready to make any official announcement yet but you can say that I'm extremely excited about the future of our basketball staff," Crean said.
If the position is in basketball operations, it's possible Cheaney could assume the spot vacated by Drew Adams, who left last month for New Mexico.
The Evansville native, who will turn 40 next month, served as a special assistant coach with the Golden State Warriors from August of 2009 until Keith Smart was fired in late April.
Cheaney scored 2,613 points at Indiana, won numerous national player of the year awards in 1993, including the Naismith Award, was a three-time All-American and is a member of Indiana's All-Century first team.
In 13 NBA seasons with the Washington Bullets, Boston Celtics, Denver Nuggets, Utah Jazz and Golden State Warriors, Cheaney averaged 9.5 points, 3.2 rebounds and 1.7 assists per game.
Filed to: Calbert Cheaney