Recruiting roundup: Makanjuola, McGary, 2012 rankings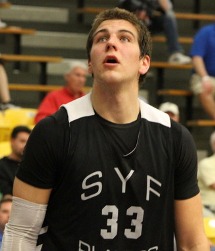 — The weekend in Bloomington brought news of a visit from 2011 Word of God (NC) big man Yemi Makanjuola. The 6-foot-9 Nigeria native began his playing career in the United States at Oak Hill Academy in Virginia before moving to Word of God this past season. There's not much information out there on Makanjuola, but here are links to a few brief video clips that were sent to us by ITH reader Kelin (scroll down on each link): Clip 1, Clip 2, Clip 3.
— The national profile of Brewster Academy's Mitch McGary continues to rise after another fantastic weekend for the Chesterton native. Here's what Eric Bossi of Rivals.com had to say about McGary from the Jayhawk Invitational:
Skilled and athletic in the paint, the 6-foot-10 McGary has advanced his game further than just about any prospect in the last year. An offensive-minded guy, he's the rare big guy who is already comfortable playing facing or with his back to the basket. He rebounds, runs the floor and is a pretty good rim protector defensively. The Indiana native made the move of the night when he caught on the right block, gave a fake to his right shoulder and then spun to his left to swish a right-handed jump hook from 8 feet. He's left-handed, folks.
— MaxPreps.com released a top 100 for the class of 2012 and four Indiana commits made the cut: Yogi Ferrell (20), Hanner Perea (53), Jeremy Hollowell (60) and Ron Patterson (76). Other notables: D'Vauntes Smith-Rivera (9), Gary Harris (26), T.J. Warren (75), DeJuan Marrero (80), A.J. Hammons (98).
— Joe Eberhardt has video of three 2014 prospects from the Eric Gordon All-Star Classic over at IndyHSHoops: North Central's Perry Poindexter, New Castle's Bryant McIntosh and Greensburg's Sean Sellers. McIntosh visited Bloomington last season. Joe will have more on Zak Irvin and Devin Davis Jr. from that event later this week on ITH.
— Michigan Prep Stars released a spring highlight reel of Detroit Pershing guard Sherron Dorsey-Walker, who has offers from Michigan, Baylor, Florida State, Indiana, Minnesota, Dayton, Iowa State, Eastern Michigan, Central Michigan, Western Michigan, Fairfield and Oakland.
— Illinois Wolves coach Mike Mullins tweeted that Indiana is now recruiting 2013 Chicago Hope point guard Jalen James.
(Photo credit: Coast 2 Coast Hoops)
Filed to: Mitch McGary, Sherron Dorsey-Walker, Yemi Makanjuola