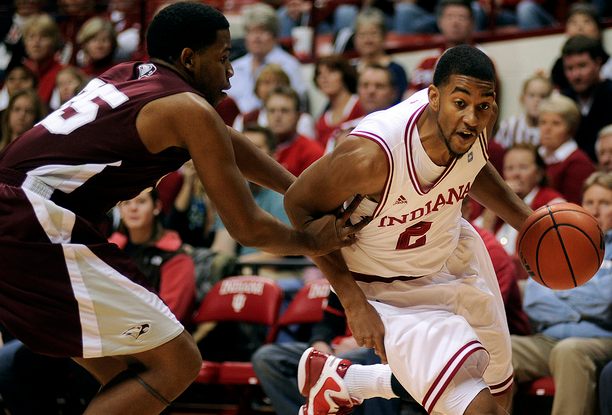 (Photo credit: James Brosher)
This release just popped into our inbox from J.D. Campbell of IU Media Relations:
Indiana University sophomore Christian Watford is out indefinitely with a broken left hand suffered Sunday in an 84-83 overtime loss at Michigan State. He underwent surgery today. He is the team's leading scorer and is eighth in the conference averaging 17.0 points. He is sixth in the conference in free throw percentage (83.5) making 111 of 133 charity tosses.
Video of the injury and audio of Tom Crean talking about tomorrow's game against Minnesota after the jump.

VIDEO: WATFORD INJURY

AUDIO: TOM CREAN TALKS MINNESOTA

[audio:http://podcast.iu.edu/upload/InterCollAthletics/b53d8294-3189-469a-93a6-757ef7d606c8/Crean_020111.MP3]

And here's what Crean said transcribed:

Opening Statement
"Our road to getting better and our path on how we're going to get there with the people that we have took another hit. We'll be without Christian Watford indefinitely. He had surgery today on his left hand. He broke a bone in his hand, so he'll be out indefinitely. I really don't have anything other than that for him.

"Verdell Jones III is still in a day-to-day situation, but our team is doing everything they can possibly do to get better, to improve. I love their spirit, but more than ever now as we come back home tomorrow night, we have got to have the energy of this fan base at a very high level.  It was incredible last Thursday. We're going to need them more than we have all year, because we are definitely a team that doesn't have everybody at full strength, so we need our crowd at full strength. There's no doubt about that."

"We know Minnesota is a very good team. They have as big of a front line as there is, maybe in the country, let alone the league. (They are) a highly ranked team, a team that knows how to win, that's well-coached and that has the inside-outside game with Blake Hoffarber. We'll be ready to go. We plan to throw everything we possibly can at that team to win the game and we hope our fans are going to be right there along with us."

On players stepping up:
"There's no choice. They're not going to reschedule the game for us. We just move forward. There's no way around it. We feel for (Christian). He's coming off his best week. He was absolutely relentless on Sunday. It was a huge part of why we had the game that we had. You take your leading scorer and your leading rebounder, and a guy that can make shots and play the way he can, it's going to effect your team. But there's no choice tomorrow night. At 6:30 tomorrow night, we have to be ready to go. I'd be lying if I said it was going to be easy and I'd be remissed if I didn't say that we're going to need that fan base more than ever this week. I think they respect how hard this team is working. I know of the love for the program and they are going to need that extra jolt tomorrow night. They need to feel it. As coaches we just move forward. We get ready to play the games no matter what, but when you take a teammate out, you're not only taking a teammate and a comrade, but you're taking a friend out and that's hard for them. So they're going to need that pick-me-up from this crowd. There's no doubt."

On dealing with Minnesota's size:
"There's not a question about it – if we don't block out and rebound, we can't win the game. There's not doubt about that. They are relentless on the glass. They are relentless on the free throw glass. They are relentless on both ends. It's just the way that it is. Trevor (Mbakwe) is the best, but he's not the only one. We know what they're capable of and we've got to find out what we're capable of."

On Minnesota's talent:
I think they are playing that big line-up and they've got arguably as good an athlete as there is in the league in Rodney Williams and arguably as good as a shooter as there is in the country in Blake Hoffarber. I think they're pretty good. Certainly when you take Al Nolen out, it effects them, but they weren't that effected by having Devoe Joseph not being there with them. They probably played better. We know what we're dealing with there. That's a pro front line. I'd be shocked of all three of those front line guys don't end up in the NBA someday. That's this league though. That's what these guys came to do and no one ever said in the recruiting process that it would be easy, and it certainly hasn't been. We're not going to let any of that be an excuse for not understanding that they are going to come to fight tomorrow night and we've got to have the same mindset. We've got to be smart and take care of the ball. But we really are going to have to defend and rebound at an extremely high level tomorrow.

On facing Minnesota a second time:
"There's a little more familiarity with them. That's always the case, but they certainly haven't gotten any worse since we played them. And hopefully we've gotten better, too."

On Blake Hoffarber:
"They utilize him off even more screens than what they have. He's curling in the lane a lot more … a lot of screen, re-screen. They want to get him lost, I'm certain, in transition. We're going to have to do a lot of different things, but we're going to have to be able to account for him every possession. The thing that he's so good at, that I think makes him such an NBA prospect, is that he's got the quickest release that we've faced. He's in that class with all the great shooters, like a Jon Diebler, John Shurna-people that you see, but that release is really, really tough. You can't be a split second late. It doesn't phase him and that's what makes him good. Now he can get that shot off in the lane even more, especially curling off the re-screen."

On how to offset the height of Minnesota's frontline:
"I think you have to be prepared to do a lot of different things inside of the game. I don't think you can look out there and think you are going to put four guards out there (against their height). It's early, these guys haven't tried to cross the street yet to go home (in the bad weather). It's just that kind of time around here. We are going to have to play a lot of different ways. We have been planning that since last night and even yesterday."

On Jeremiah Rivers and Tom Pritchard stepping up recently on the offensive end:
"It is very encouraging. If a guy is out there right now for us he has to have the confidence to play at both ends of the court. They are getting better and you need guys to continue to bring what they are capable of. It's not about "we need more from this guy" or "this guy needs to bring x amount of points". I don't think you can ever do that or put that on somebody. You just need everybody to bring absolutely more than what they thought they were capable of. And that's usually "I'm going to guard better" or "I'm going to rebound better and I'm going to hit first" or "I'm going to run the court in transition". Those are the things that you have to have. We just have to play the game. There are adjustments and changes and tweaks and then you have injuries that you deal with. We are going to coach by feel the best we can tomorrow. But I would sure love to not be able to hear during the game like we couldn't last Thursday against Illinois. And I'm sure the players would prefer to be able to hear the fans over me as well. That would be a benefit to them."

Filed to: Christian Watford