Inside the Hall Twitter Mailbag: December 29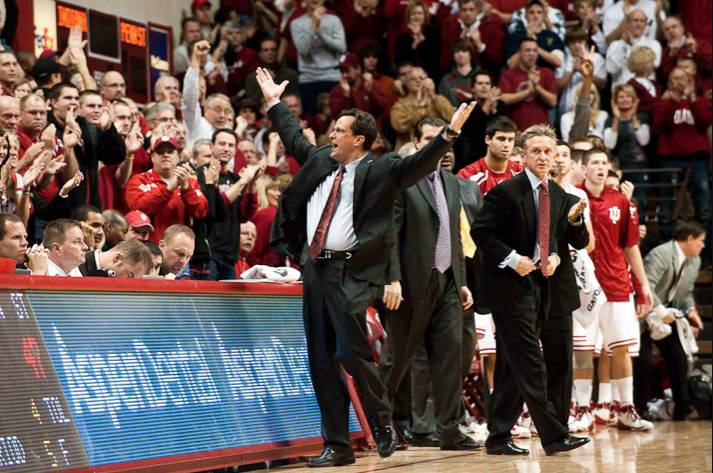 (Photo credit: Jamie Owens/J.Scott Photography)
The Inside the Hall Twitter mailbag is a weekly collection of questions tweeted to us via our Twitter account, @insidethehall. Tweet us your questions each week and we'll answer as many as we can. Now, onward …
@grllin writes: Given the team's results over the last week or so, is it time to change the realistic expectations for the year?
Alex Bozich: Most of the expectations for this season had a baseline of 14 or 15 wins with a ceiling of 17. And that was with Guy-Marc Michel figured into the equation. In order to reach that ceiling, Indiana probably needed to win ten games in its non-conference schedule and then hold serve at home against the bottom half of the Big Ten.
When the Hoosiers failed to win a game in Vegas and then stumbled against Penn State on Monday, there's no question the expectations have changed. That 17-win plateau is probably out of the question, but I think this team still reaches 13 or 14 wins if it can stop the pattern of falling behind early. The fact, however, remains that IU is still a flawed team defensively that desperately lacks post scoring. In a loaded Big Ten, that's no recipe for success.
@iu77bu81 writes: do u think watford should have played less due to his back spasms? Seemed to help creek
Alex Bozich: Hindsight is always 20/20, but this was a game Indiana needed to win and even with Watford at less than 100 percent, the decision to play him 25 minutes was probably the right one. He's Indiana best player at this point. And he's the closest thing the Hoosiers have to a reliable scorer. He wasn't close to being himself against Penn State and some blown defensive assignments early were costly.
But on the flip side, if you bench him, who grabs those minutes? Tom Pritchard? Maybe, but he's not a threat to score and his confidence is nearly gone. Bobby Capobianco? Much like Pritchard, he's not going to score either and hasn't earned more than spot playing time. Will Sheehey probably would have gotten more run, but Tom Crean said afterwards that he was a little banged up. Ultimately, Crean went with the lineup he felt gave him the best chance to win the game, but it just didn't happen.
@hoopstrainer writes: With some of the recent issues this season. Do you expect IU to bring in another 2011 recruit? If so what position?
Alex Bozich: I believe they'll try to add another 2011 recruit and the most glaring need is help in the post followed closely by help at the point. But with Yogi Ferrell arriving in 2012, do you risk trying to add a point in the spring? I don't think so unless a coaching change allows you to nab a kid that can make an immediate impact.
The more likely addition is a post player, preferably one with some athleticism, toughness and desire to rebound. One name that has bounced around is Walter Pitchford and I think he's a name to keep a close eye on as the months move along. I'm not sure he fits all of the aforementioned criteria as I haven't seen him play, but he's one of the best available bigs remaining in 2011 and there is mutual interest.
@AdamBehlmer writes: What do you think the best lineup is?
Alex Bozich: We could probably have an open thread debating this question and get 200 comments all with different viewpoints. Anytime a team is losing, the natural reaction is to suggest tweaks to the lineup or question the coaching. But what you have to remember is that our opportunity to watch this team is limited to games only. We don't see what goes on in practice and therefore, all we can do is react to what we observe in 40-minute segments a couple of times per week.
The glaring weakness I see right now is pressure on the ball. Against both Northern Iowa and Penn State, the Hoosiers allowed far too many uncontested looks on the perimeter. And against Colorado, IU was burned off of the dribble because it could not stay in front of quicker guards like Alec Burks and Cory Higgins. This is going to continue to be troublesome if communication on defense does not improve. If you watch some of the better teams in college hoops on D, you'll notice constant chatter and aggressive, in your face ball pressure. So if I had to suggest any lineup changes, it would begin and end with playing the best defenders.
Filed to: Twitter Mailbag