2011 guard Kelvin Amayo claims offer from Indiana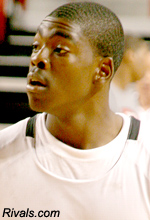 Update: According to Hugh Kellenberger of The Herald-Times, Amayo has not been offered a scholarship by Indiana. A source close to the situation also confirmed Hugh's report with Inside the Hall. Adam Finkelstein at ESPN.com had also reported the Amayo offer on Dec. 10.
—
Kelvin Amayo, a 6-4, 200-pound guard who plays at NIA Prep in Newark, N.J., is a relatively new name to surface on Indiana's recruiting radar.
The 2011 guard, who has played at three different high schools — Hillside, St. Benedict's and now NIA Prep — told Inside the Hall on Monday night that the Hoosiers have started to recruit him over the last two months.
"Coach (Tim) Buckley says they have a high interest in my style of play," Amayo said, adding that IU has offered him a scholarship.
That style of play, based on Amayo's own scouting report, is predicated upon attacking off the dribble.
"I'm a fast, up-tempo player," he said. "I like fast breaks. I can play in a half-court set or a fast break. I can shoot, go to the rim, I can do a lot of things. I can go to the rim mostly at will."
Amayo reeled off a list of high-major schools that are in regular contact, including Auburn, Boston College, Connecticut, Iowa State, Mississippi, Rutgers and UNLV. He's not nationally ranked by either Rivals or Scout, but said that he's not necessarily a late-bloomer.
"I don't know (if I'm a late-bloomer), but definitely, I still have to show my talents because all the scouts don't have me ranked," Amayo said. "But after high school, the rankings are going to be out the window."
The next step in the process for Hillside, N.J., native will be narrowing down his list of schools in February while also mixing in some visits. The Hoosiers appear to be in line for one of those trips.
"I think Indiana will be one of the schools I take a visit to," he said.
—
Check out a couple of YouTube videos of Amayo after the jump.
Filed to: Kelvin Amayo