No shortage of visitors expected for IU-Michigan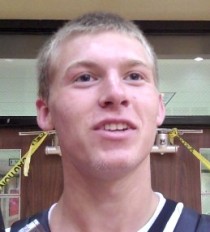 When IU (3-0) and Michigan (4-0) kick-off Saturday at 3:30 on ESPNU, Tom Crean and his staff are expected to be in the midst of hosting one of the most impressive list of visitors on a single weekend since Crean's arrival in Bloomington.
According to their Twitter accounts, Hamilton Heights' Austin Etherington (pictured), Hamilton Southeastern's Gary Harris, Lawrence Central's Jeremy Hollowell and LaPorte La Lumiere's Hanner Perea will all be in attendance on unofficial visits.
(Edit: Cody Zeller will also be in Bloomington, according to a message board post by Mike Pegram on Peegs.com. Zeller is scheduled to take his first official visit, to Butler, next weekend.)
Park Tudor's Kevin "Yogi" Ferrell, a frequent visitor to Bloomington, could also attend but homecoming at his high school may prevent that from happening.
Ferrell and Perea were both in Bloomington last weekend for IU football's 35-20 win over Akron.
Also expected: 2012 Detroit Pershing guard Sherron Dorsey-Walker, 2013 Jeffersonville guard Darryl Baker, 2013 Warren Central forward Devin Davis Jr, and 2013 Heritage Christian guard Basil Smotherman.
2014 commit James Blackmon Jr. will be participating at the John Lucas Basketball Resources Midwest Invitational Camp in Louisville this weekend.
Filed to: Austin Etherington, Hanner Perea, James Blackmon Jr., Jeremy Hollowell