July evaluation period: 2011 class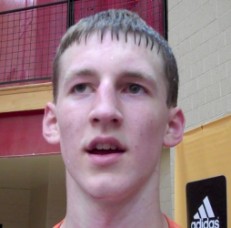 Inside the Hall hit the recruiting trail for the start of the July evaluation period and made stops at the adidas Invitational in Indianapolis and the Kentucky Hoopfest in Louisville. Here are our notes on prospects in the 2011 class with IU recruiting ties:
+ Cody Zeller, Washington (IN), Indiana Elite: If this wasn't best Zeller has played to-date in an AAU event, it would have to be a close second. In the first high-profile game of the adidas Invitational against Dream Vision, Zeller came out firing on all cylinders. He knocked down shots from the perimeter. He found open teammates for easy buckets. He dunked. He finished with contact in the lane. He showed excellent footwork and agility for his size. If there was any doubt that Zeller is a five-star talent, it was erased. One interesting observation from Zeller's interview that hasn't been publicized much was his answer to the question of what's changed since his brothers went through the recruiting process. He made a point to mention that certain schools have built new facilities in recent years, which is a good indication that Cook Hall is at least on his mind.
+ Austin Etherington, Hamilton Heights (IN), Indiana Elite: Etherington struggled in his first game at the adidas Invitational, but picked up the pace in his second game Tuesday and first game on Wednesday. Although he's declared himself 100 percent publicly, he's still wearing a brace on his back when he plays and said on Wednesday that he'll likely continue wearing the brace for the foreseeable future. He struggled with his outside shot, but found other ways to stand out as a valuable contributor. In a game against the Dallas Mustangs and five-star power forward Le'Bryan Nash, Etherington stood his ground and played gritty defense against one of the nation's best players. His ball handling still needs work, but he's an underrated passer and probably doesn't get enough credit for how well he defends.
+ Jeremiah Davis, Muncie Central (IN), Indiana Elite: Davis has taken a tumble in the national rankings and his play in Indianapolis probably won't help the cause. One observation that stood out: Many of the strengths Davis previously used to separate himself from opponents no longer appear to exist. Defenders don't allow him to bully his way to the basket by using his strength. His first step is adequate, but it's not a sure thing he'll get past his defender. He's still a very good prospect that excels in transition, is a solid passer and a great kid. Michigan State, once considered the school to beat, was noticeably absent from both of his games on Tuesday.
+ Naadir Tharpe, Brewster Academy (NH), NE Playaz: Playing alongside Kaleb Tarczewski and Alex Murphy, Tharpe gets the chance to embrace the role of a pure point guard. He took a couple of ill-advised shots from the perimeter, but he's quick with the ball and reeled off several nice passes. He also seemed to excel using the pick and roll. It's sometimes tough to gauge defense in the up-and-down nature of an AAU event, but Tharpe showed nothing to suggest that he would be unable to keep up in the Big Ten in terms of quickness. His size (5-10), however, makes him relatively easy to shoot over. Indiana continues to evaluate Tharpe and will decide, presumably by the end of the summer, whether to extend a scholarship offer.
+ Chane Behanan, Bowling Green (KY), Ohio Basketball Club: Behanan didn't play particularly well on Tuesday, but it's easy to see why he's a hot commodity. His listed height is 6-6 or 6-7, but he's actually closer to 6-5 which makes him a bit undersized for a power forward. His post game is very polished, his body (at least 250 pounds and mostly lean) is college ready and he showed an ability to finish with either hand. He seemed to get a bit frustrated in his first game on Tuesday as his teammates either forgot about him or just refused to feed him the ball. After his meeting with the media, it was obvious that Louisville and West Virginia are in the best shape and he sounded as if he'd be thrilled with an offer from Kentucky. He did, however, say he hopes to visit Bloomington.
Filed to: Austin Etherington, Chane Behanan, Cody Zeller, Jeremiah Davis, Naadir Tharpe