Washington Times report: Jeremiah Rivers to Indiana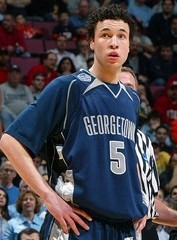 A report this morning in The Washington Times says that former Georgetown guard Jeremiah Rivers, son of Boston Celtics coach and Marquette alum Doc Rivers, plans to enroll at Indiana. Rivers visited the Indiana campus on Friday, according to the Hoosier Scoop. Here's what the Times is reporting:
Georgetown guard Jeremiah Rivers, who announced his intention to transfer this past week, plans to enroll at Indiana, according to a source close to the program. A 6-foot-4 guard who served as the Hoyas' defensive stopper during his two seasons with the Hoyas, Rivers joins another former Big East performer in Bloomington, Ind., where he will attempt to help former Marquette coach Tom Crean rebuild the Hoosiers.

According to a story published in yesterday's Boston Globe, Celtics coach Doc Rivers was not pleased with his son's decision to leave Georgetown. But the young guard felt like a shift to Crean's perimeter-oriented system would help him improve on last season's pedestrian production: 2.5 points and 2.4 rebounds in 18.4 minutes.
Rivers was familiar with Crean due to his father's ties to Marquette as well as playing against Crean in the Big East. He won't be available until the 2009-2010 season due to NCAA transfer rules, but this is a nice pickup (if the report is indeed accurate, which it appears it may be premature) because this kid is an excellent defender and ball handler.
Related:
Filed to: Jeremiah Rivers