Nick Jezierny isn't a fan of the Cream and Crimson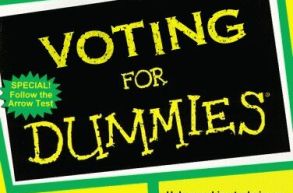 First, a preface on polls in college basketball. When it comes down to it, they're meaningless. Unlike college football, where the polls have an influence on determining who will win the national championship, the polls for college hoops really don't determine anything. Now, onward…
ITH reader Benjie sent along a tip that a voter from the Idaho Statesman was leaving Indiana off of his Associated Press ballot. I did a little digging on pollspeak.com and confirmed that the individual in question, Nick Jezierny, has not voted Indiana in his last three AP ballots.
Of the other ballots available on pollspeak for Week 6, only seven other voters had Indiana ranked lower than 15 and no one had them ranked below 19.
Here are some other oddities with Jezierny's latest ballot:
He ranked Texas A & M No. 24. That was the lowest of any AP voter. The Aggies are No. 14 in the AP Poll and No. 12 in ESPN/USA Today Poll.
He ranked Vanderbilt No. 11. That's the highest of any AP voter.
He ranked Mississippi No. 17. That's also the highest of any AP voter.
There have been some rumors that Jezierny is a graduate of Illinois, but I did a little research and all signs point to Jezierny being a 1990 graduate of Ohio University.
As far as my take on his voting, I think it is ridiculous, but this sort of thing seems to happen every year. This is a perfect example of why polls are meaningless. They are simply an opinion and there's always going to be a couple of voters who are clueless. For those of you who have steam coming out of your ears, you can email our buddy Nick at [email protected]. Just don't tell him I sent you.
————-
ITH reader Dave sent along the following email trail with Mr. Jezierny:
From: Dave
Sent: Thu 12/13/2007 10:01 AM
To: Jezierny, Nick
Subject: AP Voting
Why did you exclude the Indiana Hoosiers from the top 25 Men's Basketball AP vote? You are the ONLY voter who has not included them at all and no other voter placed them below 19. All but 7 voters placed them at 15 or above. I'd LOVE to hear your explanation.
Dave
And the reply:
From: Jezierny, Nick
Sent: 12/13/2007 12:15 PM
To: Dave
Subject: RE: AP Voting
Dave:
I did vote for the Hoosiers until they lost a game. They are on my radar and likely will re-enter my vote as some other teams I had ranked ahead of them have lost since our last vote.
Thanks,
Nick
Filed to: AP Poll, Nick Jezierny