Live Blog: Barnstorming tour at New Albany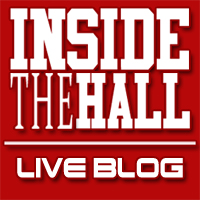 We're just a couple of hours away from the IU recruit barnstorming tour getting underway at New Albany High School. I've heard from a few readers that will be in attendance, but for those of you who are unable to attend, you won't have to go without your fix. I've got you covered right here.
A special thanks to Mr. Lee Kelly of WNAS for making the necessary arrangements that will allow Inside the Hall to live blog the game. Mr. Kelly does an excellent job running the Radio and TV program at New Albany High School and is a first class individual.
As I told you yesterday, there is a good possibility that I'll have the chance to talk to some of the recruits either before or after the game, so if you have any questions you'd like to have asked, please post them in the comments. No guarantees, but I'll do my best.
I'll update throughout the game, so just click below to continue reading and remember that once we're underway, you'll need to refresh to see the latest information. We're live and blogging away, so click the link to continue and join the discussion. Enjoy!
5:53 pm: We're here at New Albany High School and with still a hour to go before tip-off, there's already probably a thousand people in the gym. The line outside of the gym to get in was ridiculous.
Scott County's Bud Mackey is here warming up his lefty stroke. He's also mingling with fans, taking pictures and signing autographs.
We also spoke briefly to New Albany's Braydon Hobbs who told me he's interested in Western Kentucky, Evansville, Indiana State and Valparaiso.
6:16 pm: The warmups have begun and the players have come in to a nice applause. Fans are actually going onto the court and getting autographs during warmups. This is quite a spectacle, folks.
6:32 pm: Doesn't appear that Jamarcus Ellis made the trip or he's still back in the locker room. Everyone else, including Mackey and McCallum Jr. are here and suited up. Jody's got a bunch of pictures over at his blog, including a nice one of Bud wearing an Indiana jersey.
6:39 pm: The players just left the floor to a nice applause. 21 minutes to go until tip-off. The place is nearly full. You'd think New Albany and Jeff were about to square off.
6:50 pm: Jamarcus Ellis is in the building folks. 9 minutes until tip-off.
6:52 pm: Armon Bassett is here watching, signing autographs for some Hoosier fans. Brandon McGee is wearing #24, Eric Gordon #23, Ray McCallum Jr. #20, Eli Holman #32, Jordan Crawford #5, Jamarcus Ellis #13, Bud Mackey #22 and DeAndre Thomas #2. Bud Mackey just threw down a sick 360 in warmups.
7:04 pm: We're just about ready to tip it off. Eli jumping center.
7:07 pm: So. Indiana stars are up 6-2 early. Gordon is 0-2 so far. Make that 9-2 on a three by former New Albany standout Ryan Wheeler.
7:10 pm: Gordon connects from NBA range and it's now 12-9 So. Indiana stars. Make it 12-12 on another three by EJ.
7:12 pm: Jamarcus Ellis putback makes it 18-18 with 14:53 left in the first half. Ellis is making a killing on the boards so far. Gordon leading the way with 6 early points. McGee, Mackey and McCallum Jr. are all on the bench.
7:14 pm: Brandon McGee replaces DeAndre. Eric Gordon hits a nice fadeaway from the baseline.
7:17 pm: Mackey and Ray Jr. enter as the IU recruits now lead 29-22. Mackey's first possession he went right to the basket and scored on a goaltend.
7:19 pm: DeAndre back in for Eli. The IU recruits are up 35-26 with 10:21 left in the first half. Ray McCallum Jr. is at the line for two free throws.
7:21 pm: Jamarcus Ellis enters for EJ (13 pts, 3 assists). The IU recruits lead 40-31.
7:23 pm: Believe the hype folks, Jamarcus Ellis is a playmaker. He can rebound well for a small forward/guard, sees the floor and he can go strong to the hoop. He'll contribute immediately.
7:25 pm: Lance Stemler sighting. He's standing underneath one of the baskets along with walk-on Adam Ahfeld. It's 49-43 IU recruits.
7:28 pm: Jordan Crawford with a nice driving layup to make it 51-43. Crawford has nice court vision and long arms.
7:29 pm: Back to back monster dunks by Eli Holman. The lefty from Richmond, CA has 12 points and is making his presence known.
7:31 pm: Another putback by Jamarcus Ellis. He's already got nine rebounds and eight points.
7:33 pm: Jordan Crawford finds Brandon McGee on the breakaway for a dunk. 61-50 IU recruits with 1:50 to go in the first half.
7:35 pm: It's halftime and the IU recruits lead 66-57.
Some of my thoughts: Jamarcus Ellis will come in and immediately press for a starting position. There's a reason he was the JUCO player of the year. Eli Holman can get up and down the floor and he can defend the paint. DeAndre Thomas looks to be slimming down as reported recently. Eric Gordon is being himself, scoring a lot of points and making a lot of dazzling plays. Brandon McGee is a solid, all-around, blue collar player that will fit in well with what Coach Kelvin Sampson likes to do. And finally, Jordan Crawford is a very special player.
Want to give a special thanks to Matt Denison of HoosierHillsHoops for helping coordinate the programs we were able to distribute at tonight's contest.
There's a crowd of fans on the court getting pictures and autographs with Lance Stemler and Armon Bassett.
7:47 pm: Second half is underway. Among those in the press area tonight are both Jody Demling of the Louisville C-J and Terry Hutchens from the Indianapolis Star.
7:50 pm: A long three by Jordan Crawford. He's already looking better than brother Joe, a Kentucky guard, to me. IU recruits lead 74-59 on a three by Gordon.
7:52 pm: 78-66 with 16:21 to go. Not a lot of defense being played. Braydon Hobbs of New Albany just broke up an alley oop attempt from Jordan Crawford to Eric Gordon.
7:54 pm: Eric Gordon leading the way for the IU recruits for 20 points and four assists.
7:55 pm: Jamarcus Ellis connects with Jordan Crawford for a dunk to make it 80-68 with 13:58 remaining. Estimated crowd is 3,200.
7:56 pm: Eric Gordon doing what he does best, getting to the foul line. He connects on two from the stripe and has 24 points to lead all scorers. Bud Mackey and Ray Jr. re-enter.
7:59 pm: Eric Gordon stat count: 30 points, five rebounds and four assists. 3,200 impressed fans as well.
8:01 pm: Jamarcus Ellis with 10 points, 15 rebounds and eight assists. Pick him up in your fantasy league, if he's still available. The kid can put up numbers.
8:03 pm: If you're wondering about the score, it's now 100-81. I can't tell you enough about the praise from the media amongst me has given to Eric Gordon. He's special folks, but you already know that.
8:05 pm: Eli Holman shows a nice touch and gets fouled. He's now 9 for 9 from the field and completes the three-point play to make it 107-85.
8:07 pm: An easy dunk for Eli, he's still perfect from the field. Mackey drains a three. I really like the Scott County junior's game and he's feeling the love from the New Albany crowd.
8:10 pm: 118-99, nasty dunk by Eric Gordon. The crowd loved every second of it.
8:12 pm: DeAndre Thomas shows he can get off the floor and throws one down. It's 125-101 with 3:20 remaining.
8:13 pm: 36 for Eric Gordon. Eli Holman finally missed after hitting his first 11 shots. The game is just about over so I'm heading down to the floor to try and talk to some of the recruits. Hope you enjoyed the live blog and I'll be back later on with more updates. It's 134-104 with a minute left.
8:47 pm: Final was 140-106. I'll have a final wrapup later with my thoughts.
Filed to: Barnstorming Tour, Live Blogging, New Albany High School