Mosquera-Perea injury: What it means for IU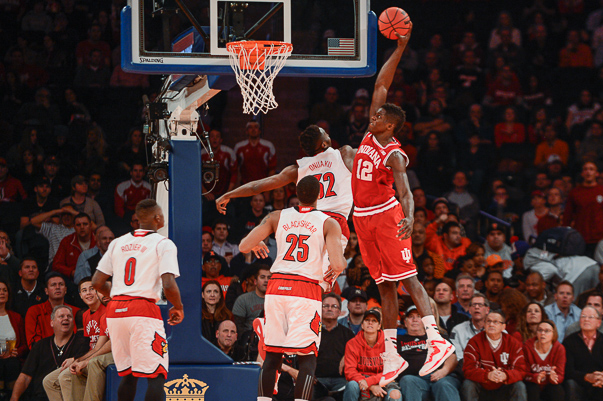 Indiana's depth took a hit Monday when junior forward Hanner Mosquera-Perea suffered a knee injury that could sideline him for two to four weeks, according to reports.
And just three games into the conference season, the Hoosiers are now two players down as sophomore Devin Davis remains sidelined following a traumatic brain injury suffered in early November.
So what does the injury to Mosquera-Perea mean going forward? Put simply, Indiana must look at this as a "next man up" situation. Indiana played five games in August in Canada without Mosquera-Perea, so it has some experience of what life is like without him.
Mosquera-Perea, who has started all 16 games and is averaging 7.5 points and five rebounds in 20.9 minutes, has been a key contributor at times this season. In IU's win over Butler on Dec. 20, the Colombia native had eight points, nine rebounds and four blocked shots in 30 minutes. And in the Big Ten opener at Nebraska, he had 12 points and 10 rebounds in 22 minutes as the Hoosiers picked up a key road win, 70-65.
But there have also been games where Mosquera-Perea has been nearly invisible statistically. Most recently, he had just four points and two rebounds in eight minutes before fouling out against Ohio State. In each of IU's first three Big Ten games, Mosquera-Perea has picked up two fouls prior to the first media timeout.
Freshman Emmitt Holt will likely get the opportunity to play an increased role and although he hasn't played the number of minutes Mosquera-Perea has, he's been a more efficient player from the field, free throw line and on the offensive glass.
Freshman Jeremiah April does not figure to see an increased role as a result of the injury as Tom Crean said last night on his radio show that he "needs to work harder."
The Hoosiers will also have to go small more often with Collin Hartman, who is just 6-foot-6, figuring to get some minutes at the five as he did against Ohio State. Over IU's last five games, Mosquera-Perea has logged just 46 percent of available minutes at the five spot with Holt (33 percent), Hartman (15) and Max Hoetzel (five) combining for the other 54 percent.
How well Indiana is able to overcome the injury may also come down to how quickly it can right the ship from the perimeter. Through three conference games, the Hoosiers are shooting just 24.2 percent from distance, which is last in the league.
Given all of the setbacks Indiana has been able to overcome this season – the Davis injury, the suspensions to Holt, Troy Williams and Stanford Robinson and questions about the direction of the program both on and off the court – this is another bump in the road that the Hoosiers must respond to quickly.
Filed to: Emmitt Holt, Hanner Mosquera-Perea