Five takeaways from Indiana's win at Northwestern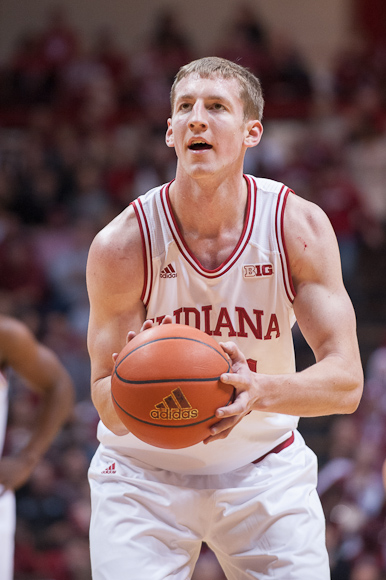 Following Tuesday's surprising loss to Wisconsin, Indiana bounced back on Sunday afternoon with a 67-59 win over Northwestern at Welsh-Ryan Arena.
The win moved Indiana, now 4-1 in the conference, into a three-way tie for second place in the Big Ten with the Badgers and Michigan.
· Cody Zeller is picking up the pace in Big Ten play: It's not that Zeller wasn't solid in the non-conference schedule — he was — but as IU's bench has struggled to find its groove in league play, IU's sophomore center is upping his production. In five Big Ten games, Zeller is averaging 19.2 points, 8.8 rebounds, 1.4 blocks and is shooting 77 percent from the foul line. Still, the uptick in his numbers isn't registering much, if at all, with Zeller. "I could care less," Zeller told reporters yesterday. "A win's a win." With the Big Ten schedule backloaded with tough games, Indiana needs Zeller to continue to getting to the line (39 free throw attempts in five league games) and working his post game to open up perimeter opportunities.
· Indiana is winning on the road: The competition hasn't been the stiffest, but the Hoosiers now own road wins over Iowa, Penn State and Northwestern. For some perspective on this, you can look at IU's final Big Ten road record a season ago: 3-6. And we don't even need to get into the record away from Assembly Hall the three years prior to that. The overriding point is that even though the wins haven't been as dominant as some expected, these early wins should help build confidence heading into the remaining road schedule, which includes Purdue, Illinois, Ohio State, Michigan State, Minnesota and Michigan.
· The bench continues to struggle: Indiana's bench again provided little in terms of offensive production. The group totaled just six points (all by Will Sheehey) and the Hoosiers currently lack an adequate and trusted backup when Zeller goes to the bench. One encouraging bit of news is that Derek Elston did play, albeit briefly, after practicing for the first time on Friday. Tom Crean said on Monday's Big Ten coaches teleconference that he expects Elston and Maurice Creek to be available at some point this week and even noted that Creek could have played yesterday, but said that it wasn't "the time nor place" to put him in the game. As the Big Ten season moves along, the Hoosiers must be able to count on a couple of their bench guys because situations will arise that will require them to do so.
· Indiana is learning to play through adversity: There has to be some concern with Indiana not delivering the knockout punch on Northwestern midway through the second half, but there is also value in becoming battle tested. The truth is that this team received very few tests in the non-conference schedule. Now that the competition level has been ratcheted up considerably, Indiana is going to need to dig deeper and learn how to finish games against better competition. So far, the results have been mixed. The Hoosiers held off second half rallies from Iowa, Minnesota and Northwestern, but couldn't solve Wisconsin. In the end, playing in closer games should be beneficial when the games mean even more in March.
· Reggie Hearn is one of the league's most underrated players: He's not going to get much love nationally playing on Northwestern, but the senior guard is quietly putting together a very productive season. Hearn poured in a game-high 22 points on Sunday on 7-of-12 shooting and also hit 8-of-9 free throws. For the season, Hearn's effective field goal percentage of 59.8 ranks in the top 60 nationally, an impressive mark for a guard, and his free throw rate of 66.2 also ranks in the top 50 nationally. With Drew Crawford out for the remainder of the season, Northwestern's chances at success moving forward hinge heavily on Hearn continuing to produce at a high level.
Filed to: Northwestern Wildcats