Five takeaways from Indiana's win over Minnesota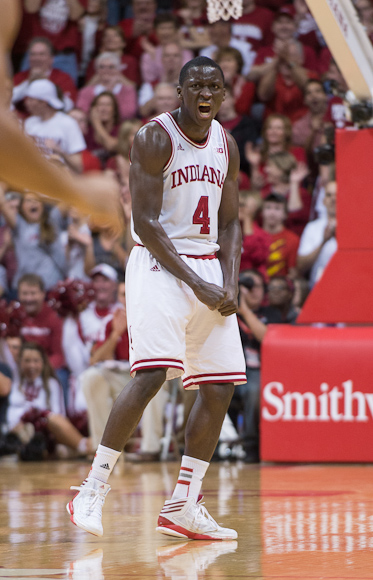 It was pretty for one half and ugly for a good part of the other, but the No. 5 Hoosiers withstood a rally from No. 8 Minnesota on Saturday afternoon to prevail 88-81 and moved to 15-1 and 3-0 in the Big Ten.
Here's a look at five takeaways from IU's sixth straight win:
· Indiana's first half was their best of the season: 52 points against one of the nation's top 15 defenses? That's what the Hoosiers managed in the first 20 minutes on Saturday. But equally as impressive was Indiana holding the Gophers, also a top 15 offense, to just 29 points before intermission. As Dan Dakich remarked on Twitter, Indiana's first half defense may have been the best effort we've seen in college hoops this season. Minnesota did shoot nearly 46 percent in the first half, but Indiana never made anything easy, was able to force 12 turnovers and allowed just five second chance points to the nation's best offensive rebounding team. 

· Victor Oladipo deserves to be in the national player of the year race: It wasn't the best night defensively for IU's star junior guard, and he admitted as much in his postgame remarks, but Oladipo's first half set the tone for the game. He was 6-of-6 from the field, including a 3-pointer, and added two rebounds, two assists and two steals. As he's done for much of the season, Oladipo made off balance looks around the basket look easy. Prior to the season, Oladipo was viewed as a very good defender who was somewhat limited by a one-dimensional offensive game. He's morphed into a player that can consistently do damage in the halfcourt. A performance like Saturday's should vault Oladipo into the national player of the year discussion.
· Yogi Ferrell played like a veteran: Saturday's performance might have been Ferrell's best of the season. Offensively, he was effective going to the basket with both hands and finished with 13 points, just one short of his season-high of 14 against Georgetown. After having a shot erased at the rim by Trevor Mbakwe less than three minutes in, Ferrell didn't get discouraged. He kept attacking and finished the first half with three layups which is impressive when you consider the size he was giving up to the Minnesota front line. He was also the facilitator on three of Indiana's seven first half 3-pointers and assisted on seven of IU's 21 first half field goals. Ferrell logged a team-high 37 minutes, which also happened to be a career-high. "He leads by example and he leads with his defense and he is a great teammate but he has got to get more verbal," Tom Crean said of his freshman point guard. "That's the next step for him."
· Indiana held its own on the glass: Not only did Indiana match the physicality of Minnesota, the Hoosiers were the more aggressive team for most of the afternoon. That started on the defensive glass as IU limited the Gophers to an offensive rebounding percentage of just 39.3, more than nine percentage points below their season average. In their lone loss of the season, the Hoosiers allowed Butler to rebound 48.9 percent of its misses. A big reason for the rebounding edge was Christian Watford, who is leading IU with 25 rebounds through the first three Big Ten games. Watford's offensive role has evolved into being the third or fourth option, but he's making a bigger impact with rebounding, defense and a willingness to play stronger around the basket.
· IU faltered down the stretch, but never ceded control: Yes, a 23-point halftime lead evaporated all the way down to three in the game's final minute. And yes, these Hoosiers have a lot of work to do against full court pressure defense after they coughed up the ball 11 times in the second half. But in previous seasons, Indiana may have caved and let the opponent complete the comeback. But this team is different. When it mattered most, IU made the play it needed to finish off Minnesota. Following a pair of misses on crucial free throws by Jordan Hulls, Cody Zeller tipped an offensive rebound back to Hulls, who secured the ball, took another foul and stepped back to line to seal the win with 15 seconds left. "Obviously we had a chance with 15 seconds left if we get that rebound and it's a 3-point game and we might make a three the way we were shooting at the end," Tubby Smith said. Whether it was blind luck or a calculated move by Zeller, winning teams create their own breaks and capitalize on them."
Filed to: Christian Watford, Minnesota Golden Gophers, Victor Oladipo, Yogi Ferrell