Source: Ron Patterson will not attend Indiana this year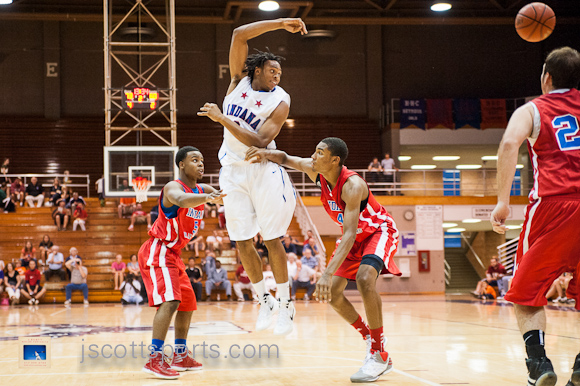 Indiana's scholarship situation for next season appears to have reached a resolution.
According to a source close to Ron Patterson, the Broad Ripple product will not attend Indiana next season.
Patterson spent the summer in Bloomington and attended classes along with the other four signees in IU's 2012 recruiting class.
Patterson could attempt to attend another four-year school immediately or could also go the junior college or prep school route, according to the source.
Dustin Dopirak of The Herald-Times reported that Patterson did not pass a faculty sponsorship screening process, which "is a program that is available for not only student athletes but any student whose grades and test scores do not necessarily qualify them for 'automatic' admission to Indiana, but that have good probabilities of being able to handle the necessary work and might often be able to bring other talents to the university."
Patterson originally committed to Indiana in August of 2010 and was the second member of Indiana's consensus top ten recruiting class for 2012.
"We think very highly of Ron and will continue to work with him as allowed to help him reach his goals," Indiana coach Tom Crean said in a release. "He has the chance to do some special things for himself and his family and we will be supportive of whatever he chooses to do."
As a senior at Broad Ripple, Patterson averaged 18.5 points, six rebounds, four assists and 2.5 steals per game.
He was expected to make an impact as a defensive presence this season Crean lauded that aspect of his game after signing day last fall.
"It goes back to the athleticism, the explosiveness, the willingness. He's got a motor that's really second to none. His hustle, his energy, especially on the defensive end, his desire to get to the basket. He knows what his improvement measurements have to be, we knows what they have to be, he needs to continue to do that this year for his team to win and he'll get better along the way. When all their seasons are over, then we'll really dive in to what they need to have here.
"He's got a motor that's as ready as it gets. Now getting the skills and the fundamentals and all those things inside that motor, decision making, those are the things that he's got to continue to really work hard on. But, again, there's a young man that continues to get better and better. You can't really put into context a young man that has a plus-12 wingspan. I've never coached one, recruited one, let alone met one other than him. Maybe there is one, but I've never met one. When he stretches out and plays with that length, it's a sight to behold."
Patterson is expected to release a statement on Thursday.
Update: Here's a statement from Patterson on his departure from Indiana, per The Hoosier Scoop:
"It is with disappointment that I won't be part of the Indiana men's basketball program. While it was an opportunity I didn't fulfill, I am looking forward to learning from this and moving forward to another program. Having spoken with my parents, we are not entirely sure if I will enroll into a prep school or not for this year, but I am eligible to participate for the 2012-2013 season.

I'd like to thank Coach Crean and the coaching staff for their time and help this summer, especially Coach Buckley during this process, as well as the Indiana academic staff. I also truly want to thank the Indiana fan base. They have been visible since my commitment, and that type of support has been very appreciated.

Thank you.

Ron Patterson
Filed to: Ron Patterson