Good, Bad and Ugly: Penn State
FINAL SCORE:
Penn State: 65  Indiana: 55
THE GOOD:
After a couple of woeful games, IU returned home Saturday night and played Penn State well enough to keep it interesting and fight for a win. There was no doom and gloom like we experienced throughout the Ohio State and Illinois games. Tonight's team competed, and competed well. Sure, you may say it was just Penn State, but this is not the Penn State of old. This Nittany Lions incarnation has talent at many positions. They've beaten Purdue, and played very close against Wisconsin and Michigan State.
First thing to point out: Free throws. IU was a remarkable 12-of-14 for 85.7 percent. I think that's the best they've shot all season. Too bad it wasn't close enough at the end for this to make a difference.
IU also continues to out-rebound their Big Ten opponents. They snatched 32 to Penn State's 25 tonight. I don't know how much this has really helped the Hoosiers in Big Ten season so far, but it's encouraging nonetheless. IU's defense was also rather strong tonight. Though Penn State was hot, hot, hot for a stretch in the first half, things weren't as quick and easy as they've been for our opponents the last two games.
Lastly, even when we went down 10 and this game looked like it was done and over, IU fought hard, hitting two threes late to try and keep it close. Credit the guys for not giving up, and the coaching staff for continuing to keep this team's effort level high. Penn State scored 34 points in the second half. IU had 32.
It's games like tonight's when you realize if IU can keep this kind of intensity and hard work up once more talent arrives next year, the Hoosiers should be just fine.
THE BAD AND UGLY: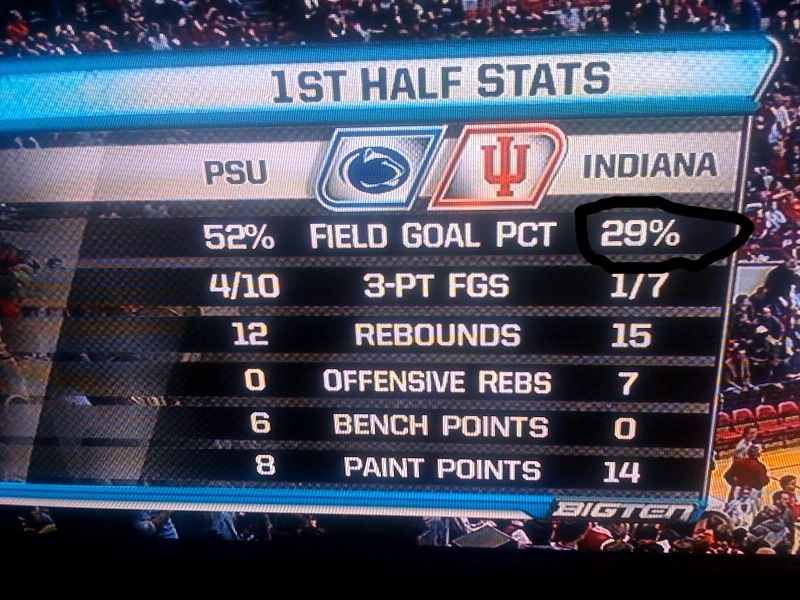 Argh, that first half. Twenty-nine percent shooting from the floor is not good. And those seven offensive rebounds are a little deceptive, as IU missed a lot of shots in close to the rim, got a rebound and then missed again.
It's not just missing shots, it's missing those bunnies, those lay-ups, those gimme-gimmies that IU should be making. If a couple of those fall, who knows how this one turns out?
These Hoosiers continually shoot themselves in the foot early on in games, by getting off to such slow starts, and then having to battle back if they want any chance at victory. Five to 10 minutes into some of these games, IU is barely on pace for 25 points. And yeah: 55 points tonight. It's hard to win many games scoring that many points.
We're now at eight straight loses, as we haven't won since Dec. 10 against TCU. Sigh.
Filed to: Penn State Nittany Lions