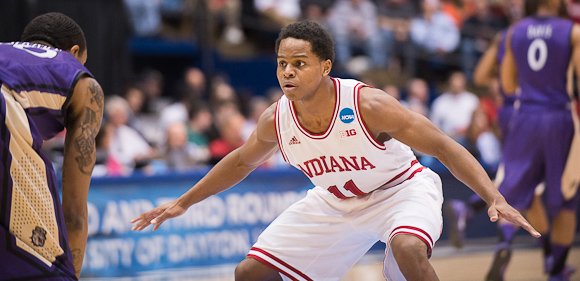 Welcome to "That's A Wrap," our player-by-player recap of the 2012-2013 Indiana Hoosiers. Today: Yogi Ferrell.
Ferrell (36 games): 7.6 ppg, 4.1 apg, 2.8 rpg, 40.3% FG, 79.8% FT in 28.1 minutes per game.
Indiana's 2012 recruiting class was tagged as "The Movement" because it was expected to help take the program back to its elite status. But for the most part, Indiana's freshman class failed to live up to lofty expectations in its first season.
The class once called "The Movement" effectively became "Yogi Ferrell and Co." based on production on the court. Ferrell had almost an instant impact for the Hoosiers when the season began, and he played a large role in Indiana's success throughout the season.
Ferrell served as Indiana's starting point guard, and he showed remarkable growth and development with his court vision, defense and leadership. Ferrell was Indiana's second best on-ball defender behind Victor Oladipo, and he did a solid job of taking care of the ball in the majority of the Hoosiers' games this season.
Ferrell's passing skills and instincts are nearly impossible to teach, and he figures to be a large part of Indiana's future. But like every college freshman, Ferrell experienced some bumps in his mostly-successful freshman campaign.
At times this season, Ferrell shot the ball very well from the outside. He knocked down 3-of-4 of his attempts from beyond the arc against both Penn State and Purdue, and he had two 3-pointers in three other games. But Ferrell's outside shot is wildly inconsistent, and something that hurt the Hoosiers at times this season.
Some teams played off of Ferrell on top and dared him to shoot from the perimeter. When he shot it with confidence, it often went in. But Ferrell too often turned down open looks and instead tried to force it elsewhere. With a large portion of Indiana's scoring likely to be gone when next season rolls around, Ferrell needs to develop a much more consistent perimeter shot to be a multidimensional Big Ten point guard.