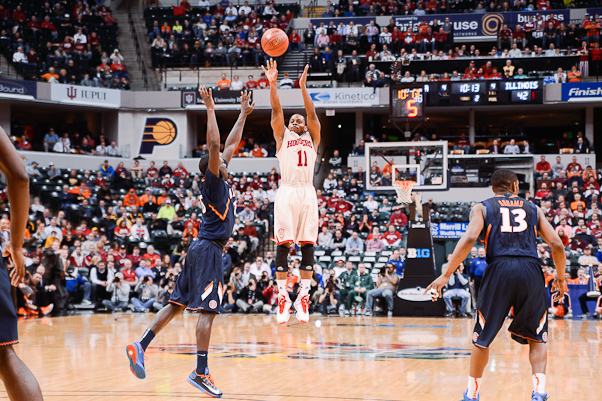 Welcome to "That's A Wrap," our recap of the 2013-2014 Indiana Hoosiers. Today: Indiana's offense.
Final stats (32 games): 72.3 ppg, 44.8 FG %, 49.8 eFG %, 34.3 3P FG%, 73.0 FT %, 45.3 % FTR.
After spending back-to-back season as one of the most efficient offensive teams in the country, Indiana's offense took a couple steps back in 2013-2014.
It was easy to see why. Gone were Cody Zeller's and Victor Oladipo's high-percentage looks. Gone too was the precision of Christian Watford and Jordan Hulls from distance. All four were also crucial members of Indiana's transition attack, and all four moved on. And instead of three upperclassmen in the starting lineup, this season's offense featured three freshman.
While Yogi Ferrell took steps forward and Noah Vonleh was overpowering at times, it simply wasn't enough to make up for the departed. After finishing third nationally in adjusted offensive efficiency in 2012-2013 and fourth in 2011-2012, Indiana fell to 127th this past season.
The turnovers were a big part of it. As has long been discussed, the Hoosiers' sloppy play and poor decision making had them forfeiting 21.8 percent of their possessions for the season (310th nationally) and 21.9 percent in conference play (12th). But Indiana also squandered points by getting their shots blocked at a high rate as well (12.4 percent: 331st nationally, 13.2 percent: 12th in conference).
Six seasons in, these two areas have been consistent low spots for Indiana's offense under Tom Crean in conference play: