Indiana coughed up the ball 22 times against VCU's "HAVOC" defense on Saturday night. Such a mark was a season high.
We'll look at two second half Jordan Hulls turnovers and two scoring plays in the closing minutes against the Rams' D in the latest edition of Film Session.
1)
Hulls has the ball and looks to initiate the offense: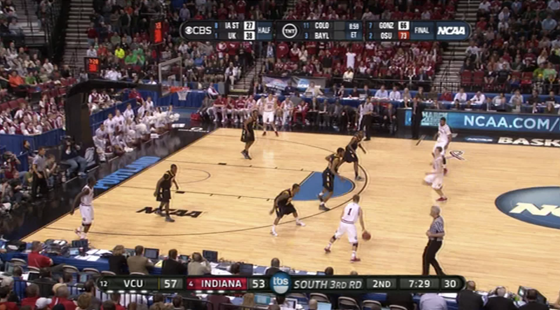 Cody Zeller goes to set a ball screen for Hulls, but he ends up slipping the screen. DJ Haley hedges and begins to trap Hulls: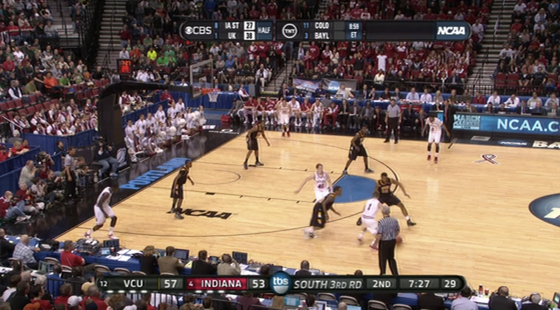 Hulls tries to go around him to the right: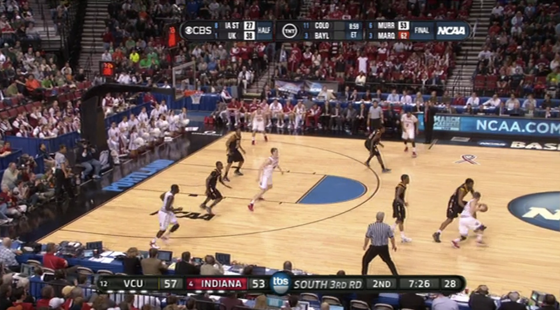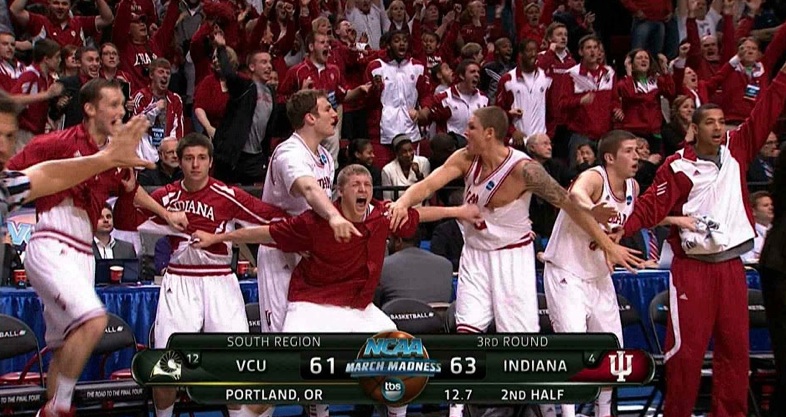 Thoughts on a 63-61 win against VCU:
Caught your breath yet?
What a finish. What a win. What survival.
Things did not look good in the second half for the Hoosiers. VCU's half-court trapping was eating them alive. The Rams' bigs would hedge high off of ball screens and Jordan Hulls (five turnovers) couldn't handle it. Indiana posted a season-high 22 turnovers (34.2 TO%) in this one, and it just about cost them — maybe should have cost them  — the game. The Hoosiers also had issues getting Cody Zeller involved in the offense after halftime, and he was part of the turnover problem tonight as well (four).
But here was the reality of the second half: VCU couldn't make a bucket. So for all the turnovers the Rams forced on Indiana, all the possessions Indiana wasted, they weren't able to punch the lead too far out there. Check this: In the last 12:20 of the game, VCU only made three baskets. After scoring a combined 83 points in the first half (42 for VCU, 41 for Indiana), the teams combined for only 41 in the second half (19 for VCU, 22 for Indiana).
But in the last five minutes of this one, Indiana was able to slow it down and get some semblance of an offense together. The Hoosiers went to Zeller. He got to the line twice and made three of four. He hit a jumper. And Victor Oladipo got aggressive. He slashed to the cup for a 3-point play to cut the lead to one after Bradford Burgess missed two free throws. And Oladipo remained aggressive on Indiana's next possession, snagging a defensive rebound off a VCU missed three and going coast-to-coast. Though his shot was blocked, Will Sheehey found himself in the right place at the right time. The block came right to him on the right baseline. He splashed in a mid-range jumper. It put Indiana up two. It was all the Hoosiers needed.
A Troy Daniels' 3-pointer missed just before the buzzer — a shot the Rams had built their lead on in this one, but finished just 9-of-30 for the game — and there would be no tip-in, no buzzer beater here.
63-61 Hoosiers. Onwards to the Sweet Sixteen, to Atlanta, to another showdown with the Wildcats.
PORTLAND, Ore. — Virginia Commonwealth forward Bradford Burgess was asked Friday to compare this year's VCU team to the one that made the Final Four last season.
"Really, the only similarity is the name on the jersey," Burgess said.
Last year VCU team was senior-laden and had plenty of guys who could score. That team was led by guys like Jamie Skeen, Joey Rodriguez and Brandon Rozzell, all of whom graduated after the Final Four run.
This is simply not the same VCU team. But that doesn't mean its one that's any less dangerous.
The scorers are gone, so the Rams rely on their defense — their HAVOC defense. They press, they trap, they chase. Basically, they cause havoc, and lots of it.
"We didn't focus as much as we needed to on the defensive end [last year]," Burgess said. "We tried to almost outscore teams sometimes, and that hurt us."
Added VCU coach Shaka Smart: "We have our stretches where we score really well, where we shoot really well. But we depend on our pressure defense. We depend on our ability to stop teams in the half court."
The HAVOC defense, as Ryan Corazza analyzed in his post yesterday, features athletic guys who relentlessly pursue the ball and do their best to get the opponent out of their offense. If they can't create turnovers, the Rams want to speed the other team up and force them to play at a pace they are uncomfortable playing at.
Indiana coach Tom Crean said he's been having his team play against seven pressing defenders to attempt to simulate what his players will see Saturday night against VCU.
Lots of teams press, but few do it better than the Rams.
"It's their length," Crean said. "And they do an excellent job of pushing you in a spot. Their traps are really hard nosed, they close their traps. … You've got to do a great job of catching the ball where you want to catch it. Your fundamentals really come into play, getting the ball out in front, reversing the basketball, head up."
The New Mexico State Aggies rebounded and got to the line. Indiana negated those strengths and cruised to a 13-point victory Thursday night.
The VCU Rams present the Hoosiers with a different challenge Saturday; their "HAVOC" defense — one featuring a full-court press — is turning opponents over on 27.1% of their possessions, which is No. 1 in the nation.
First, here's a look at the full-court press in action leading to a steal and score from the CAA Championship, a game VCU topped Drexel, 59-56:
"That's going to be all game, that will not stop," Dan Dakich said of VCU's full-court defense early in the broadcast. "In fact, as the game goes on, one of the fun things about VCU is they get playing harder, they get stronger as the game goes on. They played 10 guys in a 22-0 run the other night."
"VCU is going to make a run and you have to shorten those runs," added Dakich on the broadcast. "The most important thing against VCU is to hang onto the ball for a 2-count and pass fake your way out of situations."
Dakich also described it as a system where Smart wants his defenders between their man and the basket.
"It's rule No. 1 of Shaka Smart's defense," said Dakich.