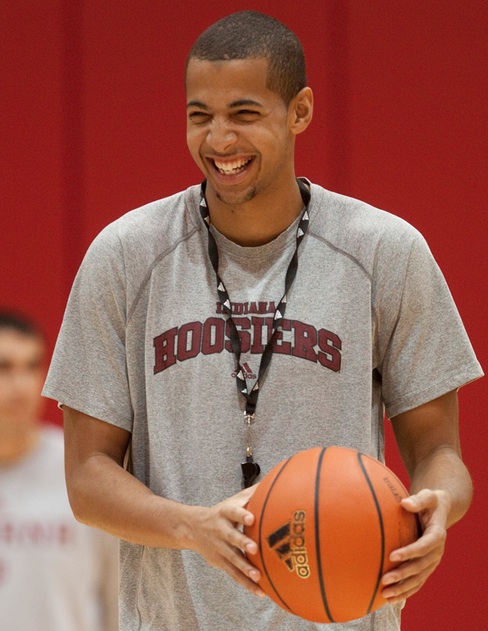 Verdell Jones III had a dream of making the NBA when he was a kid. It became much more of an attainable goal when he played at Indiana.
His NBA dream and goal seemed to be all but gone when he suffered a torn ACL against Penn State during the Big Ten Tournament of his senior season. But Jones isn't giving up yet.
The former Indiana guard is back in the United States after playing professionally in Japan this past season, and he's ready to take a serious run at the league he always dreamed of playing in.
"It's definitely one of my goals and dreams, so I'll definitely try to keep pursuing it as long as I can," Jones told Inside the Hall on Thursday. "If it doesn't work out then hey, it doesn't work out. But I'm definitely pushing it and reaching for it."
Jones is currently back home in Champaign, Ill. and he said he plans to start training around the country soon. His agent has set up workouts for him in Chicago and New York, and he said he hopes to join an NBA Summer League team sometime after the current season ends.
"I'm just working out and trying to get stronger," he said. "We'll see what happens."
While it may not be likely Jones lands on an NBA roster for next season, he's in a much better position to make one now than he was a year ago.
When Jones graduated from Indiana last May, he was still in the process of trying to recover from his injured knee. He signed a pro contract with Peristeri GS, a Greek team, in August, but the situation wasn't exactly ideal. The country went through serious financial woes, and Jones didn't feel secure for the long term.
"In Greece, it was a good league, but the money situation was terrible," Jones said. "You got paid late, first off, and when you did get paid, you got paid like half your check. It was stressful as far as that aspect, so I thought it was best for me to leave and go to a different country."
Jones returned home for a few weeks last December to weigh his options and decide on his next step. Eventually, he decided to accept a contract offer from the Oita Heat Devils in Japan.