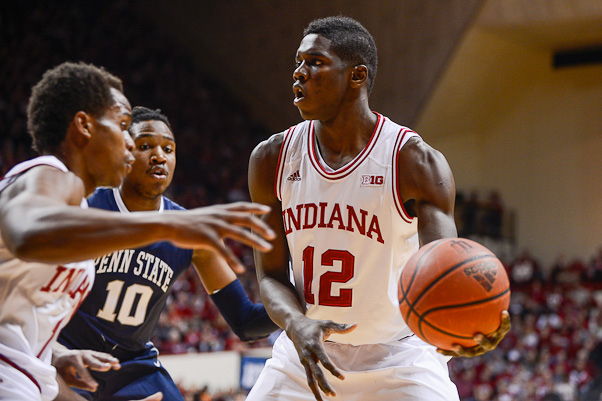 The Inside the Hall Mailbag is a collection of questions tweeted to us via Twitter (@insidethehall), submitted on our premium forum and sent to us via our Facebook page. Submit your questions and we'll answer as many as we can.
kmark22 on the premium forum writes: I know people believe with the loss of Fischer, Jurkin, & Vonleh IU needs big players….is this idea/topic really overblown given how IU plays. Do they really need big men to be successful?
I believe you have to have some sort of presence, even if it's just mainly for defense and rebounding. However, there are very few offenses in college right now that are based on throwing the ball into the post and letting a guy operate with his back to the basket. It's a perimeter oriented game with ball screens and pick and roll dominating the landscape. If you can space the floor, make 3s at a reasonably efficient rate, offensive rebound and get to the line, you can win without a big man who scores a lot.
I think the main thing for Indiana next season is going to be finding a combination of players up front that can defensive rebound and defend without fouling, which is something Hanner Mosquera-Perea and Devin Davis had problems with in limited roles last season. – Alex Bozich
Richard Howenstein on Facebook writes: How do you see Hoetzel fitting in to the lineup? He has length that we need and has an outside shot. Is he a 7th or 8th guy off the bench?
I think he's got a shot to be a rotation player right away if he's able to defend adequately. If you look at it on paper, the "sure fire" rotation guys appear to be Yogi Ferrell, James Blackmon Jr., Robert Johnson, Stanford Robinson, Troy Williams, Mosquera-Perea and Davis. Beyond that, Nick Zeisloft and Hoetzel are probably right there for the 8th and 9th spots.
We don't really know enough about where Collin Hartman is physically to say how much he'll be able to play with any certainty and I've never seen Tim Priller or Jeremiah April play, so the foreign trip should give us a gauge on where those two stand. To answer your question, if Hoetzel makes shots and helps space the floor, he's going to find his way into the rotation in some capacity. — Alex Bozich