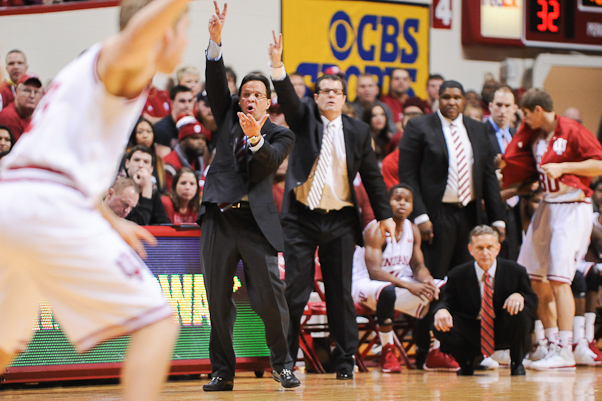 The Big Ten held its weekly coaches teleconference on Monday morning to review the sixth week of conference play. Here are some notes and quotes from Tom Crean's appearance:
· Prior to the call, the conference announced that Wisconsin's Nigel Hayes was named the league's freshman of the week for the third time this season and Ohio State's Aaron Craft was named the league's player of the week for the second time this season.
· Opening statement: "Our focus right now is just on the week ahead and getting back to practice today after taking yesterday off and totally being locked into Penn State after we go through the corrections and the good and the not so good from the other night and what we can learn from that. We're ready to roll."
· Crean was asked about coaching a team that draws a strong response and how his message to his players about dealing with fan behavior has changed or evolved: "I think the biggest thing and obviously I'm sure that every coach in the country is going to be reminding their team of it today, if they didn't yesterday … and the bottom line for us is that you can't ever let anybody get in the way of your career, get in the way of the way of your responsibility to your team and most importantly, you can't ever let anybody get to you in a way that's going to affect you in a negative way.
"It's a lot easier said than done, there's no question about that. The bottom line is, the more that you can treat, especially on the road, which is hard, but the more that you can treat the noise and treat the barbs and treat all of that as just faceless and nameless, the better you're going to be. Again, that's hard to do. It's very, very hard to do. It's very easy to talk about it. It's a lot harder to actually do it because you want people to have an incredibly competitive spirit when they're playing. It doesn't matter if you're a coach or you're a player, it's very, very hard to turn that off. And if you turn it off too quickly, you don't win games. But the bottom line is you've got to keep trying to remind people that the fight is within the lines. The fight is within the 94 feet. The fight is within the football field, the baseball diamond, whatever it is. You keep the fight in there, you keep your edge in there and you try to treat the rest of it just as noise that you work through."