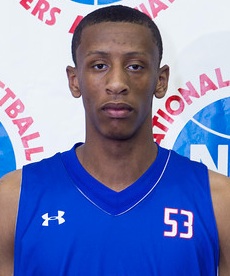 When Troy Williams arrived in Bloomington for his official visit last weekend, he was leaning toward North Carolina. Indiana was in the picture, but it certainly wasn't leading.
When Williams left Bloomington after Hoosier Hysteria, he was pretty sure he wanted to play his college basketball for the Hoosiers.
Williams, a 2013 recruit from Oak Hill Academy in Virginia, officially committed to Indiana on Sunday afternoon after a week of contemplating his decision. He becomes the fifth member of Indiana's 2013 recruiting class, joining Stanford Robinson, Luke Fischer, Devin Davis and Collin Hartman.
Williams, a 6-foot-7 forward, is the 32nd-ranked player in the 2013 class, according to ESPN.com. Williams is the highest ranked player in the Hoosiers' class.
"The visit did it," said Boo Williams, Troy's uncle and AAU coach. "To get a kid to Indiana in ACC country, I can't believe it. That's the first kid we've ever had in 30 years go to Indiana. It's amazing."
Boo Williams said his nephew was blown away by the Indiana fans and the atmosphere that was created at Assembly Hall during Hoosier Hysteria. Troy Williams had originally planned to wait until the spring to make a decision, but his timetable was accelerated after his trip to Bloomington.