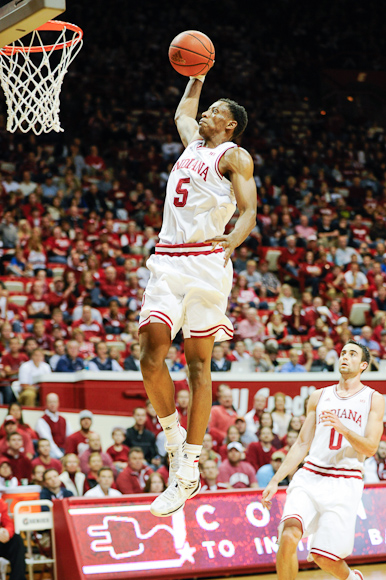 Throughout many of the Hoosiers' 23 practices this preseason, freshman forward Troy Williams played with one hand.
It was only until this past Monday that Williams started to even practice with his right hand after he injured it the week of Hoosier Hysteria. During practices, he'd play with only his left hand.
But as the week went on, Williams proved himself worthy of being a starter in Indiana's exhibition Saturday night against Southern Indiana. In the Hoosiers' 83-68 victory, Williams recorded a double-double, scoring 10 points and adding 10 rebounds in his first college game of his career.
"Before I came here, I had a left hand but it wasn't as strong as my right hand. People see it as a setback, but really I see it as a help to me," Williams said after the Hoosiers' win. "Having both hands equal at the same ability really has helped a lot so now I can finish both sides of the rim with either hand."
But scoring and grabbing rebounds wasn't the only thing Williams did Saturday night. Wearing padding on his right hand, the 6-foot-7 freshman also blocked three shots, dribbled between his legs and even attempted a few one-handed dunks.
All in all, it was a good first night for Williams, who only three and a half weeks ago wanted to participate in Hoosier Hysteria so badly he was willing to do it with only one hand but instead settled with judging the dunk contest.
"When you've gotta guy like that, I mean, you've got to let him run. You've got to let him play and what you want to do is you want to coach him along the way," Indiana coach Tom Crean said. "He wants to be coached, and that's a big deal.
"He's got such a firecracker in his body. He's on the explosion all the time."
Hoosiers adjust to first game with new NCAA rules
Crean called it the story of the game.
In their first test against the NCAA's new rules on hand-checking that has caused Crean to change the way he coached his defense, Indiana committed only 12 personal fouls. By contrast, the Screaming Eagles were called for 23.