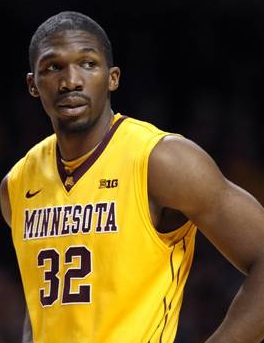 If you asked college basketball experts before the season about Minnesota, some may have predicted the Gophers would improve. Getting a player like Trevor Mbakwe back can do that for a team. But few would have believed they could be a top 10 team and a legitimate Big Ten title contender, especially this early in the season.
But Indiana coach Tom Crean isn't surprised that Minnesota has risen all the way to No. 8 in the latest Associated Press top 25 poll. He actually cited the Gophers prior to the season as a team to watch this year.
"But not like I'm a prophet, you could just tell," Crean said Friday. "Trevor's just too good. Trevor Mbakwe is too good a player."
As Crean and the Indiana players met with the media on Friday afternoon, it was clear they have a great respect for a Minnesota club that enters Saturday's game riding an 11-game winning streak.
The game between the two games from last year at Assembly Hall was being played in the Indiana locker room on Friday.
"It's gonna be one of the toughest games we've had all year," sophomore Cody Zeller said. "They've already proved themselves. They're a very tough team. We've got our work cut out for us."
"They've gotten a lot better," junior Victor Oladipo added. "Andre Hollins is doing a great job. They're all capable of scoring and scoring at a high level."
While the Gophers (15-1, 3-0) have improved across the board, they have benefited greatly by the return of Mbakwe, who missed most of last season after suffering a torn ACL. Mbakwe is a sixth-year senior who Crean recruited and coached when both were at Marquette.
Mbakwe's numbers are down a bit — he's averaging 9.3 points and 7.9 rebounds in 20.1 minutes per game — but Crean has seen considerable improvement in the veteran's game.