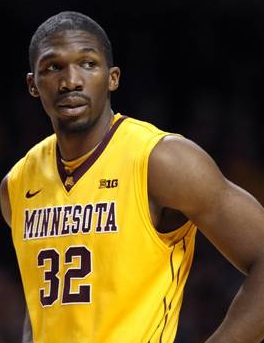 If you asked college basketball experts before the season about Minnesota, some may have predicted the Gophers would improve. Getting a player like Trevor Mbakwe back can do that for a team. But few would have believed they could be a top 10 team and a legitimate Big Ten title contender, especially this early in the season.
But Indiana coach Tom Crean isn't surprised that Minnesota has risen all the way to No. 8 in the latest Associated Press top 25 poll. He actually cited the Gophers prior to the season as a team to watch this year.
"But not like I'm a prophet, you could just tell," Crean said Friday. "Trevor's just too good. Trevor Mbakwe is too good a player."
As Crean and the Indiana players met with the media on Friday afternoon, it was clear they have a great respect for a Minnesota club that enters Saturday's game riding an 11-game winning streak.
The game between the two games from last year at Assembly Hall was being played in the Indiana locker room on Friday.
"It's gonna be one of the toughest games we've had all year," sophomore Cody Zeller said. "They've already proved themselves. They're a very tough team. We've got our work cut out for us."
"They've gotten a lot better," junior Victor Oladipo added. "Andre Hollins is doing a great job. They're all capable of scoring and scoring at a high level."
While the Gophers (15-1, 3-0) have improved across the board, they have benefited greatly by the return of Mbakwe, who missed most of last season after suffering a torn ACL. Mbakwe is a sixth-year senior who Crean recruited and coached when both were at Marquette.
Mbakwe's numbers are down a bit — he's averaging 9.3 points and 7.9 rebounds in 20.1 minutes per game — but Crean has seen considerable improvement in the veteran's game.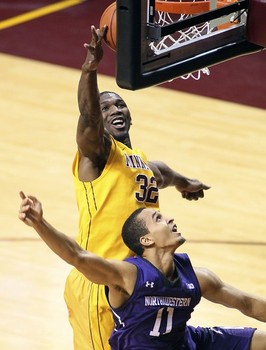 After back-to-back road wins to open conference play, No. 5 Indiana returns to Assembly Hall on Saturday afternoon for a meeting with No. 8 Minnesota. It's the first meeting between two top ten teams in Bloomington since February 19, 2000 when the No. 10 Hoosiers hosted No. 7 Ohio State. 
The game will be broadcast on the Big Ten Network with Gus Johnson and Jim Jackson on the call.
Finally, a game that may give us a true measuring stick of just how far Indiana has come since losing to Butler in Bankers Life Fieldhouse on Dec. 15. That's not to say the wins at Iowa and Penn State weren't impressive — they were — but those are games everyone expected Indiana to win, despite well-documented woes on the road in the Big Ten.
Minnesota, however, is a different level of challenge for these Hoosiers. The Gophers are a legitimate contender for the conference crown. They boast experience in the front court with Rodney Williams and Trevor Mbakwe, who looks healthier by the game after knee surgery ended his season prematurely last season. And in the backcourt, Andre and Austin Hollins can both fill it up while Joe Coleman can be tough to deal with physically, even by Big Ten standards.
Minnesota's three wins in the league have all been convincing: 76-63 over Michigan State, 69-51 over Northwestern and most recently, 84-67 at Illinois. The Gophers have won 11 straight games since falling to Duke in the Battle of Atlantis and were the only team to win last season in Bloomington. After five straight guarantee games following IU's triumph over North Carolina in late November, a major test awaits on Saturday on Branch McCracken Court.
PERSONNEL
Tubby Smith didn't build this team with five-star recruits, but he's assembled a group that can collectively play with any team in the country. Williams has continued the stellar play he exhibited as a junior and is the team's second leading scorer (12.9) and rebounder (5.9). The senior forward is shooting 58.7 percent on twos, but is shooting just 64.7 percent from the foul line despite a healthy number of attempts (68). Williams continues to be dangerous in the open court and has the potential to stop the opposition's momentum with any number of high-flying plays around the rim.
Mbakwe played more than 30 minutes for the first time in Wednesday's win at Illinois and logged his seventh double-digit rebound game of the season in the process. He's currently the best offensive and defensive rebounder in the Big Ten according to Ken Pomeroy's stats and keeping him, and Williams to a lesser extent, at bay on the glass will be pivotal for Indiana. Minnesota has used its bench far less frequently since the beginning of league play, which is a sign that Smith may not be as comfortable with guys like Maurice Walker, Eliott Eliason and Oto Osenieks as he was in non-conference play.
StarTribune.com: Mbakwe out for season with torn ACL
University of Minnesota Medical Director Dr. Brad Nelson confirmed that Trevor Mbakwe suffered an ACL tear and added that surgery to repair the injury will take place in several weeks.

In a news release, coach Tubby Smith said: "He had a knee surgery before (at Marquette) and for it to happen a second time, you hurt for him, but you know he's a guy that has the willpower and has been through it before and can recover again. We are certainly going to miss him. He's having a great year.

"He's our leader. He's been a big emotional leader for us. Our players look up to Trevor, not just because of his talent, but because of his work ethic, and the type of person he's been."

Mbakwe injured his knee during Sunday night's championship game of the Old Spice Classic in Orlando.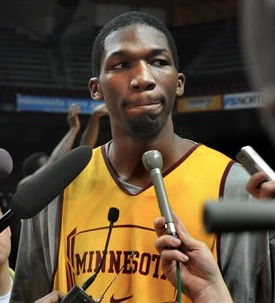 Around the Hall is recommended reading from the Inside the Hall crew. In today's case, it's a sampling of what's going on around the Big Ten. So go ahead, get your read on. 
+ In Champaign, a Meyers Leonard-led Illinois overcame a slow start to beat Wayne State in an exhibition. In West Lafayette, Robbie Hummel scored 18 points in 15 minutes to lead Purdue in an exhibition win over Northern State. And in Minneapolis, Trevor Mbakwe's double-double helped the Golden Gophers get past Bemidji State in another exhibition contest.
+ Illinois sophomore guard Crandall Head has been suspended four games for a violation of team rules.
+ With an announcement scheduled for tomorrow, AnnArbor.com looks at the potential impact of a Mitch McGary commitment for Michigan.
+ Ohio State beat writer Bob Baptist shares his thoughts on the Buckeyes after getting a chance to watch practice on Monday.
+ Michigan State junior forward Derrick Nix approached Tom Izzo after Sunday's practice and offered to give up his starting spot for sophomore Adrien Payne.
+ Bill Carmody enjoys playing Mortal Kombat.
+ First-year Penn State coach Patrick Chambers has introduced the "attitude club" to the Nittany Lion program.