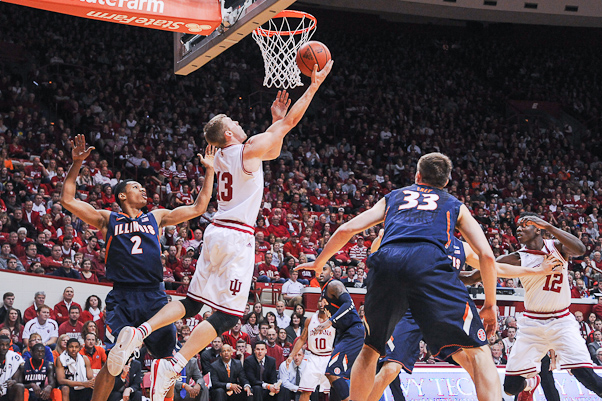 After Indiana's 56-46 win over Illinois (13-8, 2-6) on Sunday afternoon in which the Hoosiers shot only 40.8 percent from the field and got only four points from freshman Noah Vonleh, Indiana (13-7, 3-4) coach Tom Crean was asked whether he thought his team could have won with those numbers earlier this season.
"For lack of thinking about it deeper, I would say probably no," he replied.
After all, the Hoosiers had similar numbers in their 59-58 loss to Connecticut earlier this year, when they shot an identical 40.8 percent and got zero points from Vonleh. And in games this season, before Sunday, that the Hoosiers have scored less than 60 points, they were 0-4.
Crean did not even need to look further back than 26 days earlier, when Indiana and Illinois played in Champaign, Ill., in their Big Ten opener. That game, the Hoosiers allowed 83 points and turned the ball over 23 times in an overtime loss.
On Sunday, though, Crean spoke after a victory in which the Hoosiers showed the grit they didn't even have earlier this season. Against Illinois, Indiana scored less than 60 points, yet allowed the fewest points in a Big Ten game in Crean's tenure — the fewest since a 65-43, Jan. 23, 2008, win against Iowa.