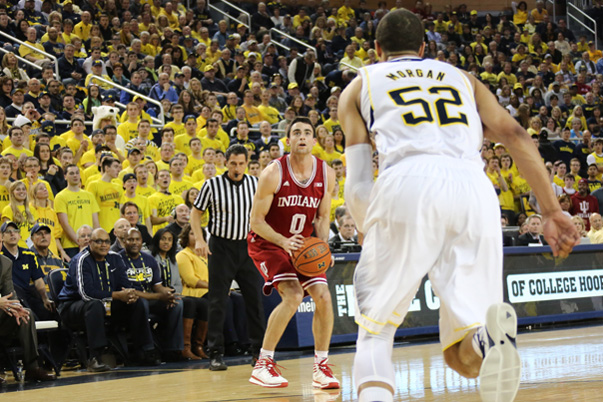 ANN ARBOR, Mich. — The same script has played out over and over for Indiana this season: build a lead on the road and watch it slip away into a loss.
It happened on Saturday, once again.
After the Hoosiers built a 10-point lead in the first half at the Crisler Center, a 12-turnover second half saw the Hoosiers' lead evaporate. And in the regular season finale, the Michigan Wolverines (23-7, 15-3) emerged with an 84-80 victory over the Hoosiers (17-14, 7-11) in front of an announced crowd of 12,701.
"There's times this year, hence our record, that we haven't been as consistent," Indiana coach Tom Crean said following the game. "Even though we lost the game today, we did a lot of good things that we can build on.
"But it's still the same things."
Throughout Saturday afternoon's game, though, the Hoosiers' offense clicked. Against the conference's No. 10 defense in league play, Indiana averaged 1.23 points per possession — its most since a 102-84 win over Washington on Nov. 21.