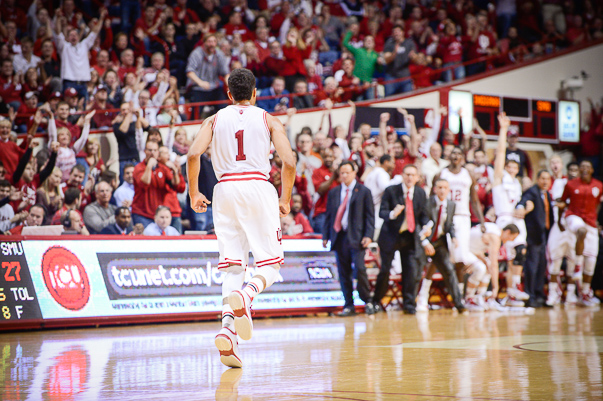 As Tom Crean spoke following his team's 74-68 win over No. 22 SMU on Thursday night, the emotion in the voice of the seventh-year Indiana coach was noticeable and powerful.
"We've got a lot of places to get better at," he said. "We've got a lot of games to play. But with what they've been through over a period of time, I'm proud of their work. I'm proud of how serious they are.
"I'm proud of – they're trying to grow up. They're growing up."
Minutes earlier, his team had just completed an upset of the nationally-ranked Mustangs. His team that had nine newcomers to start the season. His team that faced so much adversity in the weeks leading up to the season — with the Devin Davis and Emmitt Holt car accident and the Troy Williams and Stan Robinson suspensions. His team that dealt with public doubts from fans, media and alumni.
On Thursday, in front of an anxious yet electrified crowd in Assembly Hall, it all reached a crescendo. This time, though, the adversity came on the court.
"You can't plan for everything that they've been through and that they're going through," Crean said. "It's not like we've been through it. I mean, we're still in the midst of it. We're still in the midst of maturing. We're still in the midst of growing up."