Whoa, right? After a couple of bad losses to teams we didn't even look competitive against, IU was given a coming-home gift Wednesday night. That gift, the TCU Horned Frogs, was about as inept a basketball team you'll see all year, including the kids in cream and crimson. They were awful. So was IU. At least for one half.
The second half? As ugly as it was, and as much as I winced, and as openly as the ESPN studio clown mocked it — after the game, he said something like "They won't be submitting that footage to the NCAA!" — IU undeniably played better than at any time this year. It was still ugly, sure. But there were signs of something underneath, too, a baseline level of competence, athleticism, and defensive ability that the Hoosiers had yet to showcase in their young, fitful season. It was nice to watch.
The point is that no matter how bad TCU is, or was supposed to be, IU has played its fair share of bad teams this year already (Chaminade, for one) and barely come out with a victory. Next to Cornell, and the first 20 minutes of Wake Forest, this was still IU's most impressive performance to date.
After leading by just four at halftime, Indiana played its best 20 minutes of the season Wednesday night en route to a 66-56 win over Texas Christian at Assembly Hall.
A 9-0 run, capped by a Nick Williams layup with 8:55 remaining, pushed the Hoosier lead to 51-33. Indiana (5-4) led by as many as 23 before TCU closed the game with a 12-0 run of its own.
Devan Dumes scored 20 points to lead IU and Tom Pritchard had a double-double with 15 points and 11 rebounds. Nick Williams added 11 points and Daniel Moore dished out seven assists.
The Hoosiers forced 21 turnovers, had 11 steals, hit 16 of 20 free throws and out-rebounded TCU 31-25.
Zvonko Buljan paced the Horned Frogs (7-4) with 19 points. The loss snapped a six-game winning streak for TCU, its longest since the 1998-1999 season.
Unbeaten at home: The Hoosiers improved their home record to 4-0.
Still no Jones: Verdell Jones III missed his third consecutive game with concussion-like symptoms following a collision in the Cornell game. Jones is considered day-to-day.
Up next: The Hoosiers return to action Saturday at 4PM against Kentucky in Rupp Arena. The game will be televised by CBS.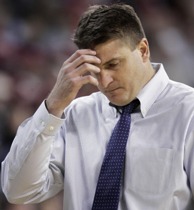 One of the better young coaches in America – Jim Christian – brings his Texas Christian team to Assembly Hall Wednesday night.
The Horned Frogs (7-3) are seeking their seventh straight win and will play in Bloomington for the first time since December 12, 1950.
After six successful seasons at Kent State, Christian made the head-scratching decision to accept the job at TCU.
Not only is it hard to imagine a coach using TCU as a spring board to a better job, it can certainly be argued that Kent State is a better gig given their recent NCAA success. But so it goes in college basketball. Money talks and that's why he made the move.
Christian, who served alongside Tom Crean as an assistant at Western Kentucky in the early 90's, has his club defending well and they could present the stiffest home test to date for IU. During their current winning streak, opponents are shooting just 39 percent from the field and 20 percent from 3-point land against TCU.
The focal point on offense is senior forward Kevin Langford, who is averaging 13.8 points and should become the 29th player in school history to reach 1,000 points this season.
Two other Horned Frogs are scoring in double figures — Lithuanian forward Edvinas Ruzgas (11.6) and Croatian center Zvonko Buljan (10.5). Jason Ebie is the primary ballhandler and averages 4.7 assists, but has struggled from the field (35 percent).
As will be the case with just about every opponent on this season's schedule, Indiana's margin for error is slim. Keeping Langford in check on the low block and establishing Tom Pritchard early will be essential to putting win number five in the books.