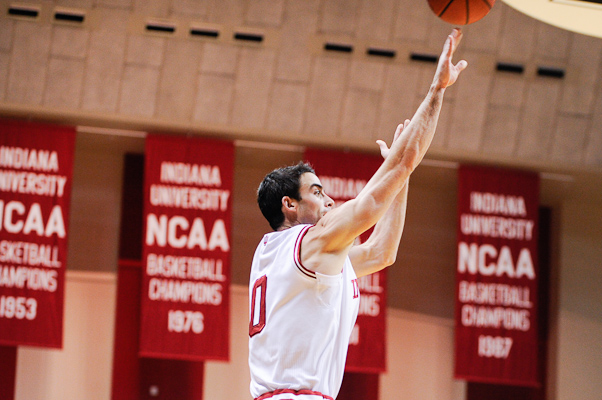 In a final tuneup before Friday's season opener, Indiana beat Hillsdale College, 79-39, on Monday night at Assembly Hall.
Here's a look at five takeaways from Indiana's exhibition win:
· Sheehey not forcing the issue offensively: With the scoring that Indiana lost from last year's Big Ten championship team, replacing that production is a major storyline going into the season. One guy who isn't attempting to force his way into a more prominent scoring role is Will Sheehey. This is a positive development for Indiana because Sheehey has always been a player who moves well without the ball, picks his spots and produces with efficiency. In the two exhibition games, Sheehey is 10-of-18 from the field and while his six turnovers are more than we've grown accustomed to, the senior forward appears to be making a seamless transition from Big Ten sixth man of the year to a starter.
· Robinson makes a strong first impression: After sitting out the first exhibition game with a bruised knee, Stanford Robinson came off the bench Monday night and delivered the following line: nine points (3-of-3 FG, 3-of-4 FT), two rebounds, two assists and two steals in 11 minutes. Robinson was effective both off the dribble in the halfcourt and in transition. But it's his energy on defense that may eventually earn him a spot in Indiana's starting lineup. "I think Stan got his fuel from defense," Yogi Ferrell said of the freshman's debut. "Stan has long arms, is a great on-ball defender, and gets many deflections.He was one of the top three leading deflections when he was healthy for practice. Once his defense got going he flowed within the game and he was driving the ball well and finishing."