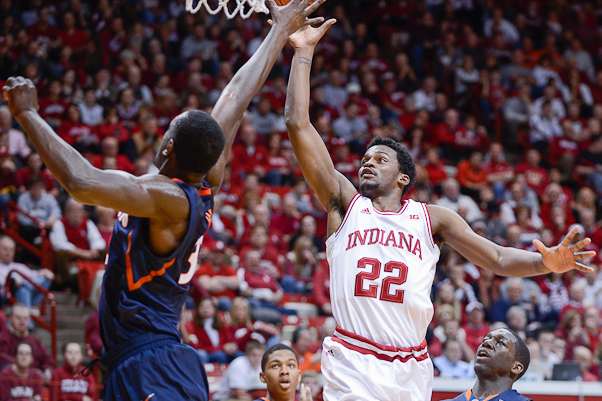 Welcome to "That's A Wrap," our player-by-player recap of the 2013-2014 Indiana Hoosiers. Today: Stanford Robinson.
Robinson (32 games): 6.4 ppg, 2.5 rpg, 1.0 apg, 44.8% FG, 18.8% 3PFG, 60.0% FT in 16.9 minutes per game.

Heading into the start of the 2013-2014 season, it was apparent that Indiana would need its freshmen to contribute significant minutes after it lost more than 75 percent of its scoring from just one season earlier. And one of those players that the Hoosiers looked to rely on was 6-foot-4 Stanford Robinson, a guard out of Landover, Md.
And boy, did Robinson contribute.
From the first time Indiana fans saw Robinson's game as a Hoosier — a get-to-the rim, fearless type — they came away impressed. That first impression came during the annual Hoosier Hysteria scrimmage, but in the waning seconds he injured his right knee and had to be helped off the court.
He would miss the Hoosiers' opening exhibition against Southern Indiana and much of the preseason practice slate with that bruised knee, which slowed his contributions toward the beginning of the season. In the non-conference, he averaged 4.8 points in just 10 minutes per game.
But as the season went on and Robinson got more and more comfortable within the Hoosiers' offense, the freshman guard gained confidence with his game. Robinson became known as one of the Hoosiers' best players at getting to the basket and finishing, notably scoring a then-career-high 13 points off 6-of-10 shooting in their 75-72 upset over Wisconsin on Jan. 14.