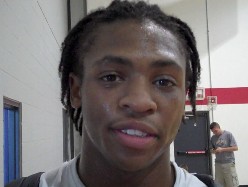 Thanks to our friend and former IDS sports writer Chris Engel for this report.
Stats:
Patterson: 7-of-16 FG (5-of-11 3PT), 6-of-10 FT, 25 PTS, 1 AST, 2 ST, 1 REB, 1 TO.
Hartman: 5-of-8 FG (4-of-7 3PT), 14 PTS, 1 AST, 2 ST, 4 REB, 2 TO.
Thoughts on the game:
Collin Hartman completed a weekend sweep of future Hoosier teammates Saturday night when his Cathedral Irish defeated Ron Patterson and the Broad Ripple Rockets, 68-65.
It was an emotional night at Broad Ripple High School as the team honored former teammate Steven Jamison who passed away from cancer last July. After Patterson won the opening tip against Hartman, the team called timeout and went up into the stands to give the game ball to Jamison's family. The two teams fought back and forth the entire game with lead exchanges, but in the end, Cathedral made a few more plays than Broad Ripple to pull out the three-point victory.
Hartman:
He had an impressive shooting night going 5-of-8 from the field, including 4-of-7 from beyond the arc, en route to scoring 14 points. Hartman showed off his complete skill set by adding four rebounds, two steals and one assist to his scoring effort.
Cathedral had a balanced offensive attack, which resulted in stretches of play when Hartman didn't get the ball. Cathedral would have been better served to try and get Hartman the ball more in the flow of the offensive. On the other hand, Hartman should have been more assertive in getting the ball. While Hartman showed good ballhandling skills, his collegiate position is likely at one of the forward spots. He didn't show much of an inside game although he had a size advantage on every player guarding him.