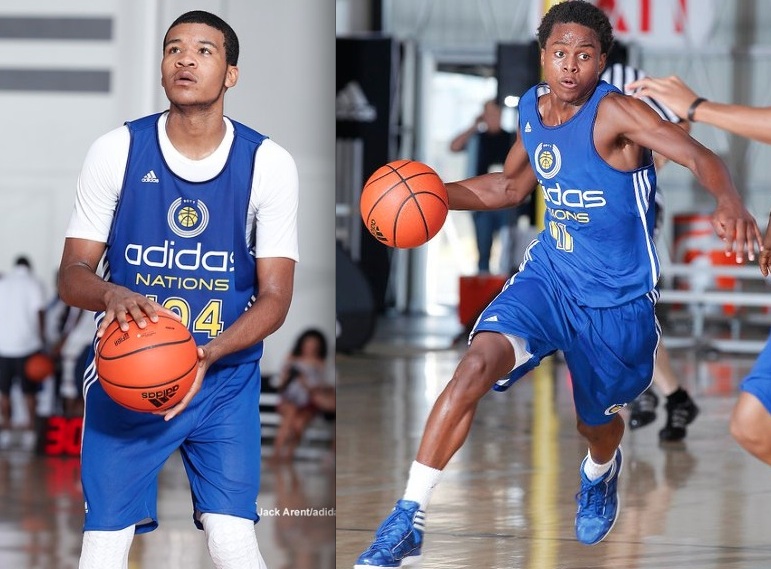 Joe Eberhardt is a recruiting analyst for Inside the Hall and a high school basketball writer in Indiana. He created IndyHSHoops.com. You can follow him on twitter at @IndyHSHoops. (Photo credit: Jack Arent/adidas Nations.)
We conclude our look at the top players in the state of Indiana today with the class of 2012. Only three of our top 15 prospects remain uncommitted. If you have any questions about the rankings, feel free to address them in the comments.
15. RJ Hunter, Indianapolis Pike: A great long-range shooter who can knock down shots off the dribble or the catch, Hunter is committed to play for his father at Georgia State University. The 6-foot-5 wing possesses good length and quickness and is a reliable perimeter defender. Hunter can score off the bounce, and also get to the line where he knocks down free throws at a high rate. His biggest area for improvement is adding strength and bulk, which should help him to improve his defense and ability to finish in the paint.
14. DeJuan Marrero, Bowman Academy: Marrero is an undersized power forward who doesn't let his size hold him back as a rebounder. He will crash the boards against opponents of all sizes and uses his strength, athleticism and high motor to win rebounding battles. Marrero's relentlessness on the offensive glass earns him plenty of trips to the free throw line and second chance points in the paint. He needs to improve his perimeter skills, but there is no questioning Marrero's hard working attitude and production on the glass.
13. Patrick Ingram, Indianapolis North Central: The Iowa-bound guard is great finisher who uses his strength, quickness and athleticism to get to the rim and score down low. The 6-foot-2 guard is also a good defender on the perimeter who uses his physicality to frustrate opponents. Ingram is a solid mid-range shooter, but has a tendency to be streaky from the perimeter and should look to improve his long-range shooting to round out his offensive game.