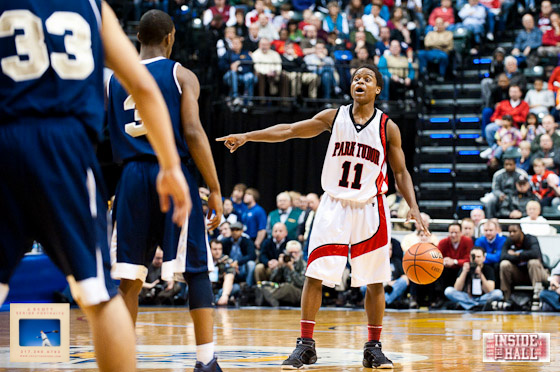 Throughout the season, Inside the Hall will keep you posted on how IU's five 2012 signees, four verbal commitments and other notable prospects with interest in the Hoosiers, are performing at their respective schools. (Photo credit: Jamie Owens/J. Scott Sports)
You can send us stats or results for this report at insidethehall@gmail.com. Here's our first update: (Note: We'll be adding more recruits as the season moves along and more schedules become available.)
2012 SIGNEES
+ Hanner Perea (La Porte La Lumiere): 15 points and 12 rebounds in a 50-38 win over AIM Prep in Gary, Indiana on Nov. 25.
+ Jeremy Hollowell (Lawrence Central): 22 points in a 57-52 overtime win over Lawrence North at Conseco Fieldhouse on Nov. 23 and 22 points in a 60-46 win at Indianapolis Arlington on Nov. 26.
+ Kevin "Yogi" Ferrell (Park Tudor): 16 points and four assists in a 64-45 win over Imagine College Prep (Mo.) on Nov. 25. Followed that up later the same day with 19 points and seven assists in a 82-39 win over Gallatin County (Ill.). 20 points in a 61-40 win over Limestone (Ill.) on Nov. 26. All games played in the State Farm Tournament of Champions in Washington, Ill.
+ Peter Jurkin (United Faith Christian Academy, NC): 14 points in a 102-76 win over Walnut Grove Christian on Nov. 22. 11 points in a 53-50 loss to The Rock on Nov. 25. 10 points in a 64-57 loss at Evelyn Mack Academy on Nov. 26.
+ Ron Patterson (Broad Ripple): 17 points in a 78-45 win over Muncie South on Nov. 26.