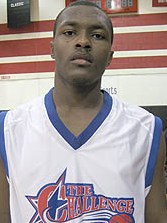 According to our friend Chris Korman of the Herald Times/Hoosier Scoop, Mobile (AL) guard Nick Williams has signed with Indiana. IU is also confirming the signing in a press release:
Bloomington, Indiana – Indiana University men's basketball coach Tom Crean has announced that Nick Williams, a 6-5, 205-lb. combo guard from LeFlore High School in Mobile, Alabama has signed a Big Ten Tender of Athletic Financial Aid to attend IU and play basketball for the Hoosiers beginning next fall. He was named Alabama High School Player of the Year earlier this spring.

"Nick really addresses a need for us and gives us a big, strong presence in the backcourt," said Crean. "He is a winner who is tough and physical and he boasts a work ethic that has helped him improve his game in a variety of ways each year. He has done a wonderful job at making the transition as a perimeter player after beginning his career as an inside performer. He comes from an outstanding high school program and has been well coached throughout his career."

Williams chose Indiana over Arkansas, Kansas State, Wake Forest, Georgia Tech and Alabama. He had originally signed a national letter of intent with Marquette earlier this fall, but was let out of his commitment when Coach Crean took over the IU program.