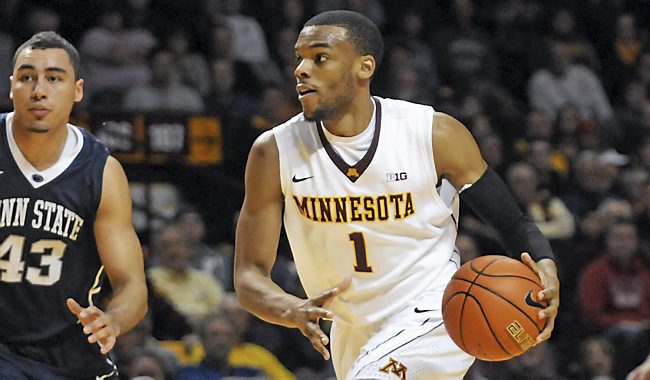 With the start of college basketball season on the horizon, we'll be taking a long look at the conference at large as well as Indiana's roster over the next month. Today, we continue our look at the Big Ten with the Minnesota Golden Gophers.
Despite the fact that he won 20 games in five of his six years at the helm of the Gophers, Minnesota fired coach Tubby Smith following the 2012-2013 season. And after a lengthy coaching search saw the program get turned down by several of its leading candidates, AD Norwood Teague ultimately settled on a coach with just one year of head coaching experience in Richard Pitino.
The first year of the Pitino-era at Minnesota ended with a NIT championship and a 25-13 record, but the team scuffled down the stretch of the regular season after amassing a 15-5 record to start the year. A postseason championship of any kind is nothing to scoff at, but after only losing one starter, there are expectations for improvement in year two for Pitino.
The Gophers return one of the better backcourts in the conference with seniors Andre Hollins and DeAndre Mathieu, two players that both made our preseason list of the top 25 Big Ten players. Hollins battled an ankle sprain during the second half of the conference schedule, but still finished as the team's leading scorer at 13.6 points per game. And Mathieu, a 5-foot-9 guard with tremendous quickness, is the top returning player in terms of assist rate at 31.1 percent.
Chipola Junior College (Fla.) guard Carlos Morris is expected to take on a major role in his first season and could slide right into the position departed by Austin Hollins.