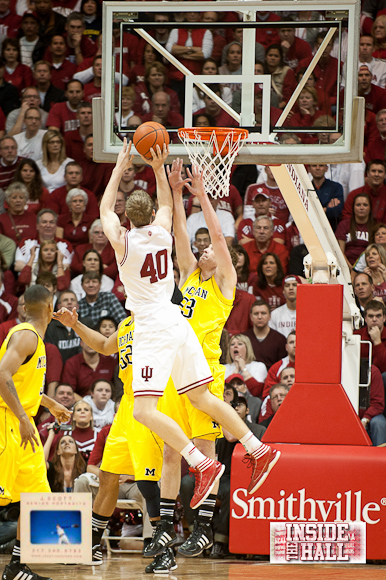 During Tom Crean's first three years at Indiana, when certain players weren't scoring, the Hoosiers had no chance to win.
Boy, how things have changed.
Jordan Hulls and Victor Oladipo combined to score 32 points in the Hoosiers' upset of then-No. 2 Ohio State last Saturday. The two scored just eight combined points against No. 16 Michigan on Thursday night, making only 3-of-14 shots from the field.
But as Hulls and Oladipo struggled to find their offensive games, big men Christian Watford and Cody Zeller picked up the load and carried No. 12 Indiana to a 73-71 win.
Watford (25 points, seven rebounds) and Zeller (18 points, four rebounds) combined to score 43 points on 16-of-21 shooting. Whenever the Hoosiers needed a big basket, they went to one of them.
"It's definitely important every game to get it inside, whether it's to me or Christian," Zeller said. "It opens so much up for the 3-point shooters and gets our offense flowing a little bit."
Watford was on fire all night. He hit 3-of-4 from beyond the arc, he took Michigan's bigs in the post, and he hit jump shots off the dribble. After a while, it became clear the Wolverines had no answer for him.
"Watford had a series of baskets right there that you can't stop some of that stuff," said Michigan coach John Beilein. "We put little guys on him, we put big guys on him. He shot right over Blake McLimans, who is a big, long dude. He just shot over him like it was Trey Burke guarding him.
"So he's a really talented player. You can see that he's really becoming a premier talent in this league."