Malek Harris Archive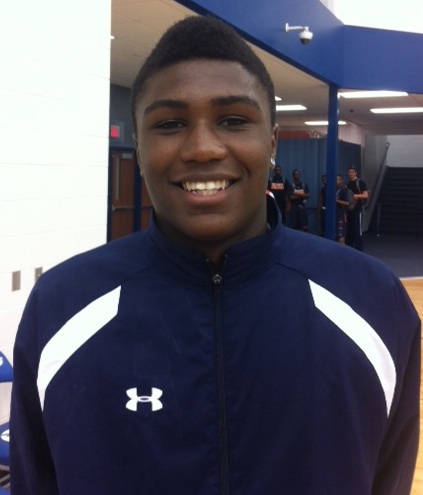 Malek Harris, one of the top rising juniors in Illinois, was on campus Friday and the 6-foot-7 forward called the trip to Bloomington a "great experience."
"Coach (Tim) Buckley took us around the campus on a golf cart," Harris told Inside the Hall over the weekend. "We got to see the dorms and basically the whole school. We got to actually play with the team, too. IU is a historical college from what I saw."
Indiana has been recruiting Harris, who averaged 10 points and eight rebounds last season at Sandburg High School, since April.
His AAU teammate with the Illinois Wolves, 2015 point guard Jordan Ash, joined him on the trip.
Harris has missed some time recently with an ankle injury, but said he couldn't pass up the opportunity to get on the floor with college basketball's preseason No. 1 in an open gym setting.
"Playing with the team was crazy," he said. "Playing with older, bigger, strong guys and I actually got to play in my position I'll be playing in college. It was a good learning experience. I need to work on my strength, my ability to handle the ball and shooting the ball off the dribble and screens. I had some good looks that I missed. Hopefully one day I'll be playing at that level.
His ankle injury, which he called a sprain last month at the Bill Hensley Memorial Run-N-Slam, was a little more serious than he originally thought.
"My understanding is that it was a bad ankle sprain, but it actually became a torn ligament. That happened months ago, so it's healed now a little bit," he said. "But I'm going through therapy now. I would say the ankle is about 80 percent right now. By July it should be 100 percent."
The trip to Indiana followed an unofficial visit to Louisville on June 1.
Harris also hopes to visit Iowa and Marquette this summer. The Hawkeyes, along with DePaul and Miami (OH), have already offered Harris. He's also hearing from Illinois, Michigan, Nebraska, Oregon State and Purdue.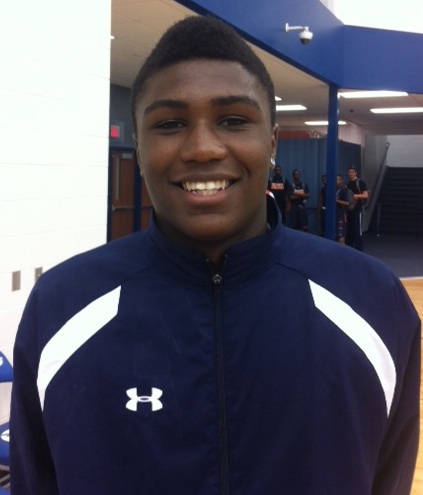 FORT WAYNE, Ind. — He's only been hearing from Indiana for a little over two weeks, but it hasn't taken long for 2014 Orland Park (IL) forward Malek Harris to become intrigued with the Hoosiers.
The 6-foot-7 forward, who averaged 10 points and eight rebounds as a sophomore at Sandburg High School, caught the eye of the IU staff at the Spring Showdown in Merrillville.
Shortly after Harris' exposure at the event, he had a conversation with Tom Crean.
"When I talked to Coach Tom Crean, he said that he liked the way I play, my versatility, the way I play hard and my court awareness," Harris told Inside the Hall. "He liked a lot of the little things I was doing. Of course I'm happy. It's one of the best schools in the nation."
Harris missed the Bill Hensley Memorial Run-N-Slam with a sprained ankle, but attended the event to support his Illinois Wolves teammates.
His strong play so far this spring has resulted in a recent offer from a Big Ten program and interest from several other high major programs.
"Iowa just offered me," he said. "Miami (OH) and DePaul, I've received offers from them. Purdue, Louisville, Nebraska and Illinois (are showing interest)."
Harris said he plans to call down to Bloomington this week to set up an unofficial visit for later this month. While the interest between both sides is still relatively new, it's clear that attention from one of college basketball's bluebloods is exciting for Harris.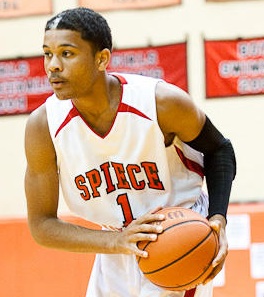 FORT WAYNE, Ind. — The 19th annual Bill Hensley Memorial Run-N-Slam Classic tipped off Friday night and Inside the Hall was there to get our first look of the spring at Trey Lyles, Jaquan Lyle and Trevon Bluiett as well as check in on a new 2014 name on the recruiting radar.
Here are our notes and observations from the opening night in Fort Wayne:
Blackmon on the road to recovery: Class of 2014 Indiana commit James Blackmon Jr., who tore his ACL on Feb. 7, told us that he is currently rehabbing three to four times a week, and is about two weeks away from doing running and jumping exercises.
Blackmon said that his rehab activities range from doing weight training to pool exercises, and also noted that he's roughly a month away from returning to non-contact basketball activities. He noted that he intends to be ready for the start of his junior season at Bishop Luers.
Bluiett taking his time: Trevon Bluiett, who landed an offer from Indiana in the fall of 2010, said that he doesn't plan to make a commitment until sometime around the start of his senior year of high school.
The 6-foot-5 sophomore said he has heard from Indiana often in recent weeks, as well as Florida, Notre Dame, Purdue, Michigan, Michigan State and Ohio State. He scored 12 points in a 108-67 Spiece Indy Heat win over I-90 Elite.
Bluiett indicated that he expects to receive an offer from Michigan on the coaches association recommended contact date of June 15th.
Lyle picks up new offer: Jaquan Lyle told us he picked up an offer on Friday from Providence and added that he hopes to take an unofficial visit to Kentucky soon. The Evansville Bosse sophomore had 13 points, three assists and two rebounds in a win over I-90 Elite.
Harris injured, but planning IU visit: Malek Harris, a 2014 forward from Sandburg High School in Orland Park, Illinois, told us he's planning to take an unofficial visit to Bloomington later this month.
Indiana began recruiting the 6-foot-7 Harris after the Nike Spring Showdown in April. He's already got offers from DePaul, Iowa, Miami (OH) and interest from Purdue, Illinois, Louisville and Nebraska.