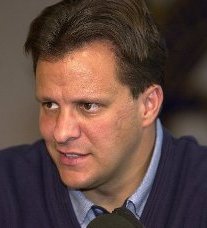 — Tom Crean was on the 'Front Row Ticket' on 93.9 FM on Thursday afternoon and here is a quick recap of what he had to say:
Crean has spoken with several former Indiana players including Dane Fife, Quinn Buckner, Ted Kitchell and Scott May. He plans to talk to Kent Benson in the near future.
Crean is normally not the type to attend a lot of meetings, but most of his first week in Bloomington has been spent in various meetings. He reiterated that there is a lot of work to do academically and although the team had a 3.0+ GPA the first semester, things have slipped dramatically this semester. Crean isn't exactly sure why the grades have fallen so quickly.
Still no definitive word on Armon Bassett or Jamarcus Ellis. One interesting observation is that he mentioned Bassett by name but did not mention Ellis. Not sure if I'm reading into that too much, but we'll see how it plays out in the coming weeks. Crean did say he knows Armon pretty well having recruiting him while at Marquette.
Crean won't be able to attend Little 500 due to prior commitments in Milwaukee involving his kids.
As far as his staff goes, Crean is looking for guys that knows the type of players he wants to bring into the program since he cannot go off campus until August due to recruiting restrictions. However, IU will be looking to add to the 2008 class this spring. He didn't give a timetable for the announcement of his staff, but early next week is my guess for an announcement on that front.