Kyle Taber Archive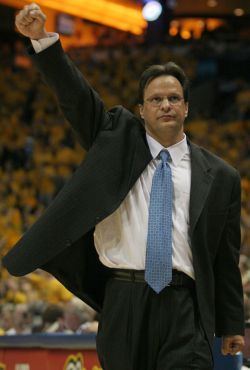 It goes without saying that the beginning of this Indiana basketball season is unlike those that have come before it. It is the second year in the last three that have seen IU with a brand new basketball coach, but even in Kelvin Sampson's first year at the helm we had some idea of what was going on. We knew about D.J. White and Rod Wilmont (how I miss Rod and his 30-foot three-pointers) and Earl Calloway and the rest. This year? Not so much.
I'll admit it: After about five minutes last night, I had to admit something to myself. I didn't know who was who. It's sad, I know, but I doubt that I'm alone here, and I hope it's not too bold of me to admit it. It took me a second to figure out that Verdell Jones was No. 12, that that wasn't Devan Dumes, that Dumes was the off-guard wearing No. 33, and who is that little dude with the Rip Hamilton facemask on? That's not Finkelmeier, is it? And oh my God is that Tijan Jobe?! It took me a second to figure it all out, and it required me whipping out the laptop and keeping the roster handy. I'm not afraid to admit it.
Because of that, a lot of stuff blurred together, but plenty stuck out, too. Off we go, then:
IU opens the season Saturday and Coach Crean, Brett Finkelmeier, Kyle Taber and new walk-on Kipp Schutz addressed the media earlier this afternoon. Here's the audio, courtesy of CBS Sports All-Access (Microsoft Silverlight required):
Rejoice, Hoosier fans: Our captain is back. Kyle Taber, he of 34 career points, will return for tonight's exhibition against Bemidji State. The details, from our friend Chris Korman:
In what constitutes a major news story with IU basketball (the times are a changing), senior forward Kyle Taber is expected to make his return to the court tonight for the Hoosiers' exhibition game with Bemidji State.
You're right, Chris. Times are a changing. Last year at this time, we were booking our tickets for the Sweet 16. Now we're celebrating the return of Kyle Taber. Did I mention it could be a long year?
Also, in case you missed it, Bob Knight is returning to ESPN. Good times.
Big Ten media day took place in Chicago earlier today and you can hear comments from both courtesy of CBS Sports All-Access:
A couple of other items worth noting from today's festivities:
If there is anything we know about the Hoosiers this season, it is that we know nothing. As much as we may have seen Tom Pritchard in his ESPN game last year as a senior in high school, or as much as we saw Kyle Taber rebound and play oh so hard defense as a Hoosier last season, we know nothing.
Watching the Hoosier Hysteria video, I felt like a bartender. All the regulars patrons had left my stools belly up at the bar, replaced by a bunch of riffraffs and vagabonds. (In this scenario, I own an Irish pub and wear a bowler hat and have the best fish and chips in the city.)
However, I think we can all agree on one thing: we aren't going to be good at all this year. This is OK; we are in the stages of rebuilding and Tom Crean has done a pretty fantastic job with the 2009 class. Expectation are low, and I think we're all still excited for the season, as bad as it may end up being.
So, on this brisk October morning, I pose this to you: what qualifies as a successful season for these Hoosiers, one that surpasses these low expectations? My thoughts: .500. That is a success. A huge success. Anywhere in the ballpark of 10-13 wins is what I'd call hitting expectations. But besides wins and losses, where can we turn?
A few other thoughts: Beating Illinois at home, going a whole year without any drama or suspensions and stealing a game somewhere and ruining a contender in the Big Ten's quest for a title. Also, hitting a shot with 1.5 second remaining in the Big Ten tournament to beat Indiana. (OH WAIT NEVERMIND.)
So, what do y'all think?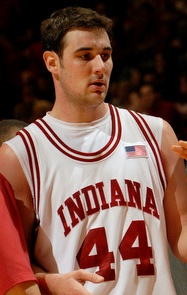 J.D. Campbell, the Director of Media Relations from IU, sent the following release earlier this evening:
Indiana University senior Kyle Taber injured his knee last week and will undergo surgery tomorrow.  He is expected to be out for 10 weeks.

"This is very unfortunate for Kyle," said IU Coach Tom Crean.  "He has been a strong presence and has done things the right way for us since we arrived here.  We will move forward and help him through his rehabilitation and look to him to provide us with the leadership that is expected from a fifth-year senior at Indiana."

He started four games last year and averaged 1.3 points and 2.5 rebounds in 22 games.
So instead of Indiana starting the season with one returning scholarship player, it's looking like they'll start the season with zero. In fact, Brett Finkelmeier will be the lone returning player on the roster when Hoosier Hysteria kicks off in October. Despite all of the recent optimism around the program, make no mistake about it, it's going to be a rough season in Bloomington.
Update: Taber surgery goes off without a hitch (IDS basketblog)
(Photo credit: The Hoosier Scoop)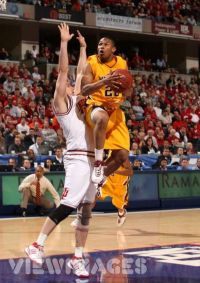 Don't let this post distract you from the real issue at hand, which is the voting we're doing just down the page. That's the democratic process at work. This is just a sarcastic post about Kyle Taber. Anyway, Jeff Goodman from Fox Sports talked with the senior about last year's team, and this year's team, and the fact that this year's team is pretty much Taber and bunch of new guys. Sentences like this are enough to make an IU fan more than a little squeamish:
Now Indiana has actually become Kyle Taber's team.Let's put this into perspective. This is a 6-foot-7 forward who averaged 1.3 points and 2.5 rebounds in a little more than 11 minutes per game a year ago.

If Crean has to rely on Taber, then the Hoosiers are in major trouble.

I'm not saying Taber has to go out and become a combination of Gordon and White, but he's the face of the program and the likely leader of a team with seven new faces."He's grown up being appreciative of what Indiana basketball is all about," Crean said, "He realizes that it's a real honor to be here and he's got a chance to provide leadership and have a senior year to be remembered for in this state for a long, long time."
There's not a whole lot else in the story — Taber refused to confirm or deny the drug-use rumors that surrounded the team last year — but the general gist is terrifying. Kyle Taber is an OK player, and a seemingly nice dude, but he is not a Division 1 centerpiece. I hate to be pessimistic, but items like this are like a slap of reality: IU is going to be really bad next year. Sigh.