Kelvin Sampson Archive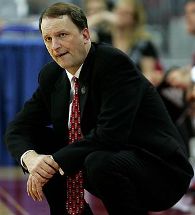 — Dan Dakich talked to Terry Hutchens of The Indianapolis Star and the former interim coach addresses Kelvin Sampson, Armon Bassett, Jamarcus Ellis and the overall state of Indiana basketball. Dakich will get $180,000 promised to him by the university and hopes to coach somewhere next season. Dakich was criticized for kicking Bassett and Ellis to the curb, but ultimately, we're all finding out that he was just looking out for a program in desperate need of discipline.
— Former assistant Jeff Meyer denies intentionally violating rules in his response to the NCAA obtained by The Indianapolis Star.
— Bob Kravitz raises some excellent points about Rick Greenspan and wonders how the AD is still employed by IU. Here's my favorite part:
Let's not engage in selective amnesia: former coach Kelvin Sampson was hired by Greenspan. Now, were former school president Adam Herbert and trustee Jeff Cohen the people who most strongly supported Sampson's hiring? Sure. Greenspan had his own favorite — sources tell me it was former West Virginia and current Michigan coach John Beilein — but Sampson was among the three candidates Greenspan sent to the trustees.

Ultimately, Greenspan signed off on this terrible hire, and on the day Sampson was introduced, Greenspan happily stood out front and sang Sampson's praises.

You can't have it both ways.

Or can you?
— Eric Crawford of The Louisville Courier-Journal writes that the self-imposed sanctions are not sufficient and that IU should pay for hiring Kelvin Sampson.
— And finally, Terry Hutchens has an update on IU's self-imposed sanctions. Tom Crean has seven days of off-campus recruiting to use in July, IU has added two paid official visits and the staff will lower its frequency of correspondence with Derek Elston (who was named in the NCAA's report) from seven times to six times for the upcoming school year.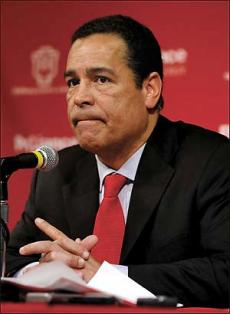 With IU responding to the NCAA today — and agreeing with all the investigators had to present — Gary Parrish of CBS Sportsline provides Kelvin Sampson's response to the allegations. Apparently, he wrote a nice little letter to Myles Brand and company.
Here's my favorite bit:
When I arrived at Indiana University, I hired an experienced staff and made my expectation of strict compliance with NCAA rules and with the restrictions imposed upon our staff very clear. As set forth in detail in the body of my Response, each member of my staff confirms that my expectations were made clear. I endorsed and cooperated fully with the monitoring systems set in place by Indiana's athletics compliance staff. I relied upon the monitoring program that was set in place. Again, the statements of my staff as set forth in my Response confirm this. I told my staff repeatedly that I never again wanted to go through an experience like I had in the Oklahoma case and that we as a staff needed to completely buy into the monitoring systems implemented by Indiana's compliance program.

[ … ]

Accordingly, I cannot adequately describe in words how stunned I was to learn from Mr. Greenspan later that summer that the compliance office's review of my staff's phone records had revealed possible violations. First, I could not believe that if in fact the records showed violations, some since my staff's earliest days at the University, the matters had not been detected and brought to the attention of Mr. Greenspan and myself much earlier so they could have been addressed in a timely fashion. And second, given how strongly and frequently I had communicated to my staff that I expected 100 percent compliance – I could not believe that NCAA rules and Committee on Infractions' imposed restrictions had apparently been disregarded.
Look: Kelvin could very well be right here. (Not likely, though.) But knowing what we know, for him to have the audacity to try and pin this on the compliance staff, that he "relied" on them to do their job, that there was really nothing wrong from his end, well, that's just some weird logic.
When this stuff originally hit, he said he didn't "knowingly" violate any rules. And in this letter, again, he didn't really place anything on himself. At some point — especially when you've been caught for this stuff before — you have to at least place some of this on yourself. Even if you didn't think you were doing anything wrong, you were still doing something wrong.
Or I guess you can take a buyout, get a job in the NBA and peace out of the college game for good. That works pretty well, too.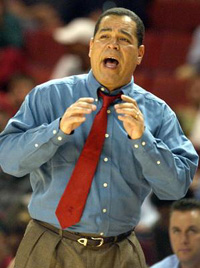 Andy Katz of ESPN.com is reporting that Indiana agrees with the NCAA's five allegations and will release its response to the NCAA publicly as soon as tomorrow:
Indiana University essentially agreed with all five violations that the NCAA cited against the men's basketball program in a Feb. 8 major notice of allegations sent to the school, ESPN.com has learned from multiple sources.

The school is expected to formally release its response to the public as early as Tuesday. Representatives of Indiana are due to meet in Seattle with the committee on infractions on June 14. A final result on any possible penalties likely won't be known until later in the summer.
The five allegations are outlined here and when you look at what happened this past weekend at USC with O.J. Mayo, you have to stop and ask yourself how serious phone calls really are. However, the NCAA will look at this more from the perspective that IU knowingly hired a cheater and that is a big part of why this investigation is right in the middle of their radar.
The athletic department, on the other hand, is hoping that getting rid of the said cheater, Kelvin Sampson, cleaning house with certain parts of the roster and bringing in a coach with a pristine image will help lessen the blow in June. The self-imposed sanctions should help as well.
Related (all files in PDF format):
Thanks to ITH readers Robert and Zach for the tip.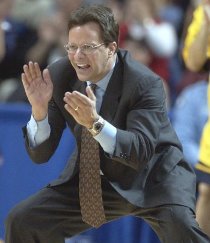 Forgive the delay in getting to this, it was a busy day of travel for yours truly, but Chris Korman of the H-T/Hoosier Scoop is reporting that IU has amended its self-imposed sanctions and is allowing Tom Crean to go on the road recruiting for 10 days.
Indiana University has amended the sanctions it imposed on the men's basketball program, according to a source close to the athletic department. The school has granted new coach Tom Crean ten days to go on the road and recruit.

When Indiana put the punishment in place last fall, it limited Kelvin Sampson to 10 recruiting days from Oct. 5 2007 through July 31, 2008. Sampson used most of those days. Dan Dakich used the rest of them.
This is a bit surprising to me simply because one has to believe that IU is doing everything in its power to stay in line leading up the NCAA hearing in June. I'm not suggesting that this is specifically "out of line," but it does go against what IU put in place last fall.
Perhaps the idea was "floated" to NCAA officials and got a favorable response from the powers that be. Whatever the case may be, if Tom Crean can pull three recruits from his office in B-town, he's going to be really dangerous for the next 10 days.
First, it was a guy that people talked about for the Indiana job, and who most fans were happy to see stay in the pros. Then it was a guy who had the Indiana job, and who most people were happy to see go. Funny how that works out.
Kelvin Sampson is close to finding his first full-time gig since getting the big boot out of Bloomington. The job: help Scott Skiles condescend to NBA players. Milwaukee Bucks players, specifically.
While I won't spend too much time analyzing the state of the Bucks, or what these hires do for them, I will say quickly that the organization must really think they need regimented player development above all else. Skiles' demeanor is far closer to the traditional college coach's — he's more the tyrant who can run all aspects of a program than he is the Phil Jackson-esque, philosophizing nuts and bolts NBA strategist. Sampson is pretty much the same thing, though he does seem to get along with players better.
Anyway, enough about this. Godspeed, Kelvin. May the wind always be at your back, and may your Palm Treo always be buzzing.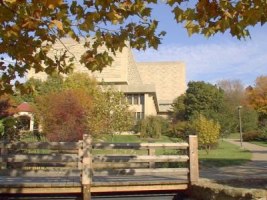 Both Hoosier Nation and the USA Today threw down stories yesterday about IU's academic woes. We all know the gist by now: first semester the basketball team rocked it out in the classroom — if you want to call a 2.89 cumulative GPA good, that is — but second semester was sort of brutal. Perhaps it had some to do with the Kelvin Sampson debacle, perhaps the kids just got lazy. Whatever the reasons may be, Tom Crean has indicated that a good lot of players are fighting an uphill battle at the end of the semester here to get their grades in line.
So what does this poor academic standing mean for the team at large? Perhaps a scholarship loss.
If Indiana fails to meet the NCAA's cutoff score, 925, it faces the prospect of losing more scholarships. The school already stripped itself of one next season because of Kelvin Sampson's alleged phone call violations, and The Indianapolis Star reported the men's basketball team is expected to turn in a score of 899 next month.

Neither Crean nor team spokesman J.D. Campbell would confirm that number Tuesday.
NCAA rules say any team below 925 could lose a scholarship for each player who leaves the school while academically ineligible. The maximum penalty in men's basketball is two scholarships.

Crean declined to identify specific players who were struggling in the classroom because of privacy laws, but acknowledged he is concerned about the Hoosiers' academic performance as a whole. Plus, he still has not decided whether to reinstate starting guards Armon Bassett and Jamarcus Ellis, who were dismissed from the team just hours before Crean took the job April 1.
So basically here's the deal: if Armon Bassett or Jamarcus Ellis or anyone else ends up leaving IU — and they also happen to be academically ineligible — IU could very well lose another scholarship. Hoosier Nation reported that Ellis was one of the seven players on the team that had a GPA above 3.0 first semester, so if he happened to leave, a betting man would say he might be leaving in good (enough) academic standing.
This certainly isn't the worst thing to befall the program in recent months, but it's a bit unsettling nonetheless. Crean has a stellar graduation rate and a strong focus on grades; hopefully this is the last time we have to deal with something like this under his tenure.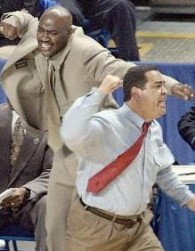 You see that gentleman to your right behind Kelvin Sampson? That's Bennie Seltzer. Seltzer played at Washington State under Sampson in the early 90's and then spent nine seasons on Sampson's staff at Oklahoma before joining Tom Crean's staff at Marquette the past two seasons. (He also played professionally in Turkey, Venezuela, Poland and Holland.)
And now, it appears Seltzer will be joining Crean in Bloomington, according to Terry Hutchens of the Indianapolis Star:
Crean appears close to hiring two assistant coaches who were on his staff at Marquette. Tim Buckley, a former Ball State coach, spent last week in Bloomington helping Crean begin the recruiting process. This week, Bennie Seltzer has been seen with Crean as well.
Seltzer spent the past two years at Marquette. The nine seasons before that, he was on former IU coach Kelvin Sampson's staff at Oklahoma. The NCAA punished Oklahoma for making impermissible phone calls to recruits during Sampson's tenure, but IU said Seltzer was not involved in any of the infractions.
There are two ways I think fans are going to react to Seltzer coming to IU. The first is the "Tom Crean can do no wrong" approach that most of us have taken on. You know, the one where we all put on our candy striped sunglasses and let the man work his magic.
Contrastingly, the other contingency of fans will likely ask the following questions: Do we really need a Kelvin Sampson disciple at IU? Haven't we already had enough of Sampson to last us the rest of our lives and then some? Regardless of IU's denial that Seltzer was involved with any of the phone call antics at Oklahoma, if IU is doing all it can to distance itself from Mr. Sanctions himself, then this is a curious move. Surely there are other qualified options to fill out the coaching staff, no?
It'll be interesting to see how this all shakes out if Seltzer is indeed hired. Crean will have some questions, like the ones above, to answer and we'll all be listening closely for the answers.