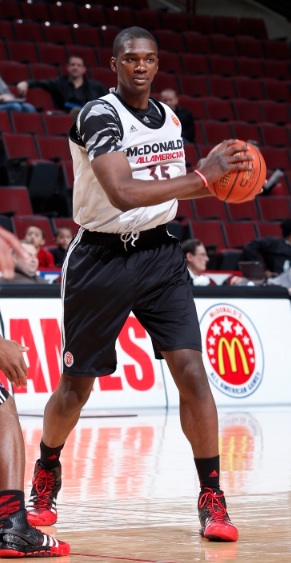 Ever since Noah Vonleh arrived on campus on May 29, the Indiana coaching staff has raved about the incoming freshman's work ethic. Assistant coach Kenny Johnson went as far as to say Vonleh would move a cot into Cook Hall and sleep there if he could.
On Tuesday afternoon, Vonleh addressed the media for the first time as a Hoosier. The 6-foot-9 forward said he's gained 20 pounds in the month and a half he's been in Bloomington because of the team's intense weight lifting workouts.
"I wasn't used to that at prep school, so that was a big adjustment," Vonleh said of the weight lifting. "I put on a lot of weight and am getting stronger.
"I just like to be in the gym all the time, getting better, getting my shot better because I'm going to be playing against a lot of guys that are a lot older than me next year."
Vonleh recently participated in the LeBron James Skills Academy camp in Las Vegas as a college counselor. He was the youngest college player there (he's 17 years old), but he managed to hold his own against some of the nation's top talent.
"I went in there and worked hard," Vonleh said. "I was talking a lot because a lot of the guys there weren't really talking. [ESPN's] Jay Bilas came up to me. He said, 'Your leadership and talking can become a great strength if you keep working on it.'"
Vonleh and Bilas had an extended conversation in which Bilas told Vonleh to continue to work on staying low in the post, making his moves quick, and becoming more decisive when making a move.
Vonleh said he took those suggestions to heart and has worked on improving in those areas since he's returned to the team.
"He's a real good player," sophomore forward Jeremy Hollowell said of Vonleh. "The biggest thing I've seen is that he's willing to learn, he's always wanting to improve his game, he's coachable and just how hard he works day in and day out in practice. He's always going to go hard and he's always going to give it his best."
Etherington not 100 percent, but close
Junior guard Austin Etherington isn't yet back to full contact after fracturing his patella last December, but he continues to make progress in his rehabilitation.