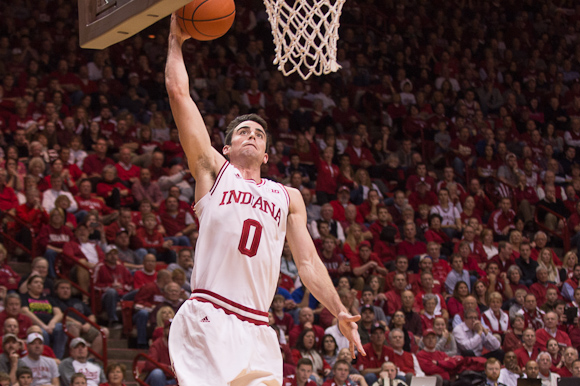 We took an early look at the 2013-2014 backcourt on Monday and today, the focus shifts to the frontcourt, where Indiana is also faced with substantial changes. We'll have comprehensive player-by-player previews this fall, but here's an early look at some of the storylines to keep an eye on with next season's frontcourt:
– Sheehey's shift from sixth man to a primary option: After starting just 19 games over his first three seasons and earning the Big Ten's sixth man of the year award as a junior, Will Sheehey will be in for a significant change in his role as a senior. Sheehey has steadily improved his offensive rating (points per 100 possessions) over his first three seasons and Indiana will need him to continue his efficient play if it hopes to have a strong Big Ten finish again. His free throw (70.4 percent as a sophomore, 65.6 percent as a junior) and 3-point shooting percentages (38.3 percent as a sophomore, 34.6 percent as a junior) dipped a season ago and are two areas he'll need to improve upon.
Sheehey has always been one of the best in the conference at moving without the ball, but without guys like Cody Zeller, Victor Oladipo and Christian Watford for opposing defenses to key on, he'll become a focus on the scouting report and will be called upon to create more shots on his own. With a strong offseason that included trips to Colorado Springs and Kazan, Russia, for the World University Games and Los Angeles for adidas Nations, Sheehey had a busy offseason and appears poised for his best season yet at Indiana.
– Vonleh's arrival and impact: For the third straight winter, Indiana will welcome a McDonald's All-American to its roster. Noah Vonleh, who won't turn 18 until this Saturday, is a physical presence that can impact the game in many ways. At 6-foot-9 and 242 pounds with a wingspan that's nearly 7-foot-4, Vonleh will slide into the starting lineup immediately. He's been regarded as one of the top rebounders nationally in his high school class, and the offseason transformation of his body under Je'Ney Jackson should make him physically ready to battle down low from day one.
On a roster that doesn't appear to have a surefire option at the center position, Vonleh will give the staff some flexibility if it wishes to go smaller at times. With the departures of Zeller and Watford in IU's frontcourt, Vonleh's arrival will help soften the blow, at least from a talent perspective, and give the Hoosiers a reliable post scorer that  also can step out on the floor and finish in transition.