Illinois Illini Archive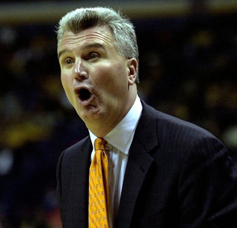 From Illinois Director of Athletics Ron Guenther and Basketball Coach Bruce Weber:
Champaign, Ill. – "There was a great college basketball game played Thursday night between the University of Illinois and Indiana University, but the game has been somewhat diminished by inappropriate behavior by a number of fans in attendance. We value the enthusiastic support of the sellout crowds at the Assembly Hall, but above all we take very seriously the reputation of our basketball program and the University of Illinois. The profanity and behavior by a small segment of fans Thursday night is disappointing and intolerable, and for that we apologize to fans of both teams."
Apparently Guenther and Weber find Chester Frazier's behavior before the game to be appropriate. At least that's how I interpret things since his pregame antics were not addressed in this statement. An apology after the fact is pretty much meaningless. The probability for this type of behavior was almost certain and warnings should have been issued to the Illinois fans and players before the game took place.
The reality is that Bruce Weber has lost credibility for his handling of the entire Gordon situation. He's basically turned into a laughing stock. His team is horrible. He's one of the biggest whiners in coaching. And worst of all, he makes some of the ugliest facial expressions known to man.
If you enjoy reading the mainstream media hammer Illinois, here are some recommended links: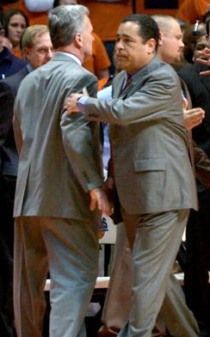 Opponent: Illinois
Date: Thursday, February 7, 2008 | 9:00 p.m. EST
Arena: Assembly Hall (16,618) – Champaign, Illinois

Line: Indiana by 2

All-time series: Indiana leads 82-77

Previous meeting: Indiana won 62-58 in Bloomington on January 13
TV: ESPN (Rece Davis, Jay Bilas and Pat Forde)

Radio: IU Radio Network (Don Fischer, Todd Leary and Joe Smith)
Probable Starters:
Indiana (18-3, 7-1 Big Ten): Armon Bassett, Eric Gordon, Jamarcus Ellis, Lance Stemler, D.J. White
Illinois (10-13, 2-8 Big Ten): Chester Frazier, Trent Meacham, Rodney Alexander, Brian Randle and Shaun Pruitt
Game Notes (Adobe Reader required to view):
Gameday reading:
As always, your predictions, analysis and Bruce Weber jokes are welcome in the game thread.
(Photo credit: Illini Loyalty)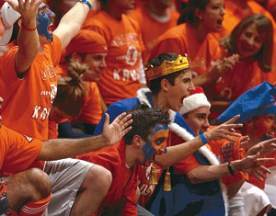 When Eric Gordon and the Hoosiers invade Assembly Hall tonight in Champaign-Urbana, the Orange Krush will be eagerly anticipating their arrival.
In what has become a dismal season for the 10-13 Illini, tonight's game marks a "new beginning" of sorts and a chance to take out pent up frustration on Gordon and Indiana coach Kelvin Sampson. The Krush have declared Gordon public enemy No. 1 and they are hell bent on becoming a major distraction during the game.
"People are looking forward to not only cheering the Illini on to victory but also giving Gordon and Kelvin Sampson a piece of their mind," Orange Krush president Eric Benz said. Benz declined to elaborate on any specific plans, but added the Krush has "a few tricks up their sleeve."
Unless one of the tricks is Deron Williams coming back for one game, I'm not too concerned.
A couple of quick observations on the Krush:
— Once upon a time, Indiana fans felt the Krush's pain. Remember Sean May. He was supposed to be a Hoosier. A Bloomington kid and a son of one of Indiana's all-time greats. It didn't end up that way. IU students booed. However, that doesn't make the continued fascination with IDKWTI any less annoying.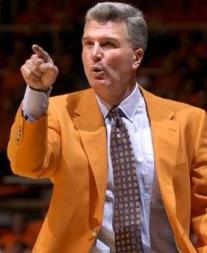 Opponent: Illinois
Date: Sunday, January 13, 2008 | 4:30 p.m. EST
Arena: Assembly Hall (17,357) – Bloomington, Indiana
Line: Indiana by 11.5
All-time series: Indiana leads 81-77
TV: CBS (Verne Lundquist and Billy Packer)
Radio: IU Radio Network (Don Fischer, Todd Leary and Joe Smith)
Probable Starters:
Illinois (8-8, 0-3 Big Ten): Demetri McCamey, Trent Meacham, Calvin Brock, Brian Randle, Shaun Pruitt
Indiana (13-1, 2-0 Big Ten): Jordan Crawford, Eric Gordon, Jamarcus Ellis, Mike White, D.J. White
Game Notes (Adobe Reader required to view):
Gameday links:
As always, your predictions, comments and Bruce Weber jokes are welcome in the game thread.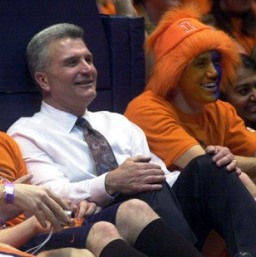 I live in Chicago, IL. It's a beautiful, progressive, vibrant city. It's the home of George Pullman, Daniel Burnham, Jane Addams, Frank Lloyd Wright, Enrico Fermi, Saul Bellow, Carl Sandburg, Muddy Waters, Curtis Mayfield, Kanye West, Lupe Fiasco, and Barack Obama, among many many others. Living here, I am subjected to plenty of things on a daily basis, but chief among is them the fierce compression of culture here, the compacting of not only people but beliefs, histories, and heritages. Long before I arrived, those differing cultures formed something coherent, yet divisionally independent; became a Great City, one which I feel privileged to live in. I embrace this diversity wholeheartedly. It's a beautiful thing.
But among all this embracing, there is one sect I simply can not tolerate. You probably already know who they are. Illinois fans.
Oh, I like them individually just fine. They are my friends, my friends' parents; I would never actually claim to hate these people under any normal circumstance. I don't hate them.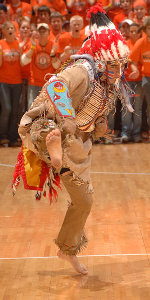 The Hoosiers are finished with their cupcakes and the New Year is nearly upon us, which can mean only one thing: It's Big Ten Preview Time! Here's a look at the teams that will challenge the Hoosiers for the conference crown … or fall under the weighty boot of crimson dominance. Probably the latter. Today: Illinois.
If anything can be said about the Illinois Illini — besides the weird obsession among its fans about a vaguely racist Indian minstrel mascot — it's that these dudes defend. It's the one immutable rule of Bruce Weber's tenure: No matter how much talent Weber puts on the floor, his team will be one of the best in the Big Ten, and perhaps the country, at stopping opposing offenses. Unfortunately for chanters of I-L-L everywhere, the past two years, there is another immutable rule about the Illini: They are horrid offensively.
The story remains the same in 2007-08. A quick glance at Ken Pomeroy's scouting report tells the tale. The Illini are sixth in the country in adjusted defensive efficiency; they are 87th on offense. They are ninth in the country in effective field goal percentage against; they are 228th (!!) on offense. They are 16th in the country defending against the three; they are 320th in the country shooting them. It goes on and on. The Illini are a good defensive team that is both horribly slow and horribly inefficient on offense. It's an ugly combination.