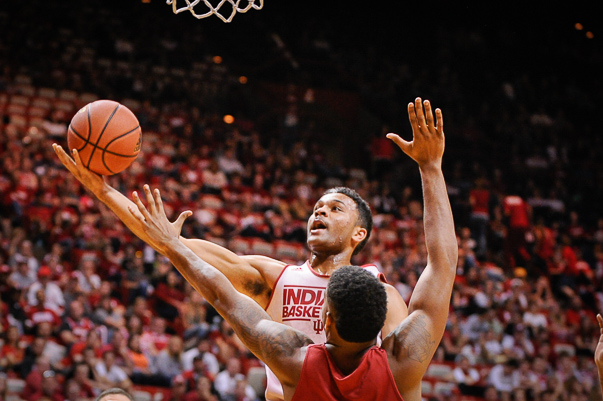 Indiana's season opening showcase, Hoosier Hysteria, took place Saturday night in Assembly Hall and included player introductions, a 3-point shootout, dunk contest and a 20-minute scrimmage.
Here's a look at five takeaways from what we saw on Branch McCracken Court:
· Indiana's offense should be significantly better: Yes, the sample size (five games in Montreal and a scrimmage) is small, but if there's one thing that stands out right now about this team, it's the possibility for a very good offense. The turnover issue still looms large, but the perimeter depth and versatility should make this team tough to guard. Yogi Ferrell is still one of the best guards in the country, but Tom Crean has surrounded him with an elite shooter and scorer in James Blackmon Jr., a combo guard who competes like an upperclassman in Robert Johnson, a veteran who seems confident in Nick Zeisloft and two sophomores, Stanford Robinson and Troy Williams, who love to attack off the dribble. There will be a learning curve to make all of the pieces fit together, but the upside of this group is tremendous.
· Mosquera-Perea shows flashes of improvement: Junior Hanner Mosquera-Perea showed a few flashes of improved hands and footwork in Saturday's scrimmage. On one particular sequence, Nick Zeisloft cut from the right corner on the baseline, received a pass from Yogi Ferrell and then dropped the ball off to Mosquera-Perea on the left block. It was a pass that Mosquera-Perea may have had trouble handling in the past, but he caught it and went up against Emmitt Holt and missed. He then collected the offensive rebound off a tip by Devin Davis and finished at the rim.
"The bottom line is, we're trying to keep it where Hanner is gaining confidence every day," Crean said on Saturday. "The more confidence he gains, the more we can stretch his game. He's on a good road, he's hungry. I'm not going to over-exaggerate it, I'm not going to over-compliment him, but you're seeing what we see – he's really working to get better. We've got to stay on that path."