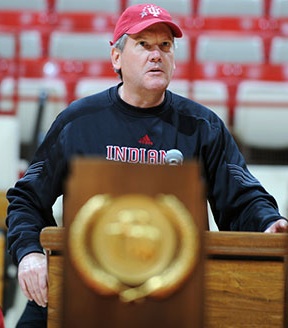 When Indiana lost in last Thursday's Sweet Sixteen game against Syracuse, the naysayers came back out in full force. Many commenters and some national voices criticized the way IU's season ended after the Hoosiers failed to advance farther than a season ago.
Indiana athletic director Fred Glass hears all that chatter. He spent a good portion of his interview with Inside the Hall on Thursday night talking about the things that have been said and defending Tom Crean, even when he wasn't asked to do so.
"He won the Big Ten title by beating Michigan twice and Michigan State twice," Glass said. "Tom Crean coached the heck out of that game at Michigan, including a great coaching job down the stretch. We exorcised a lot of demons for people who said we couldn't win on the road, Cody [Zeller] wasn't the go-to guy, this or that. And I thought we established Victor Oladipo as the Big Ten Player of the Year. Trey Burke's a great player, but I thought Victor sealed being the Big Ten Player of the Year, and I sure as heck thought Tom Crean sealed being Big Ten Coach of the Year. Great respect for Bo Ryan, but I thought that win sealed Tom winning that. But you control what you can control."
In some ways, the Hoosiers underperformed in the NCAA Tournament. They were a No. 1 seed, after all, making them the favorites to make this weekend's Final Four in Atlanta. They missed open shots. They struggled to attack the zone. They couldn't stop Michael Carter-Williams.
But in other ways, they ran into one of the nation's hottest teams. Look at what Syracuse did to Marquette in the Elite Eight (and the Golden Eagles should be used to that zone).
Either way, there's no denying the fact Indiana accomplished a great deal this season. The year may have ended early than expected, but that doesn't mean it wasn't a good one.