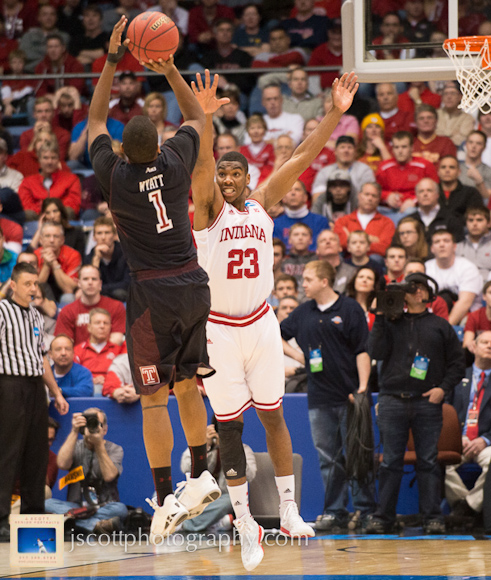 Sunday afternoon's game had so much to it, it was difficult to digest it all immediately after the game. Especially when a late March snowstorm was staring right at the greater Dayton area.
So, after more than 24 hours to think about and analyze the Hoosiers' 58-52 win over Temple, and how they got there, I took a look at the game in a much more complete way.
First, when I said in my column from Sunday night that the Hoosier won ugly, I wasn't kidding. It was UGLY in every possible way, and Indiana undoubtedly caught some breaks (like the fact that every Temple player not named Wyatt seemed to forget how to score), but to advance in the NCAA Tournament, you sometimes need an element of luck. Ask Marquette. Or Ohio State. Or Miami.
The fact of the matter is, in a game they had no business winning, the Hoosiers found a way to advance to the Sweet 16 for the second straight year. And ultimately, that's all that matters. I remember sitting on my couch watching the 2008 team play in the Tournament. There was no fight, no will, no desire. The Hoosiers faced adversity, and they quit.
When Tom Crean took control of the program, he vowed to change the culture. So give him credit because he has done that. Even when the Hoosiers trailed and couldn't seem to do anything right against Temple, they kept believing. They played hurt. They made winning plays.
That, more than anything, is what I take from Indiana's third-round win. Sure, it was ugly and there are many things that need to be corrected before it sees Syracuse on Thursday night, but we now know that this team has no quit in it (if we didn't already).
Who'd Wyatt score on?
Not everything about the Hoosiers' win over Temple, of course, was pretty. There was this guy, Khalif Wyatt, who went off in the first half and poured in 31 points. Wyatt's done it many times before, but his production against Indiana was a bit surprising because the Hoosiers knew how dangerous he was. And they had the Big Ten Defensive Player of the Year in Victor Oladipo to check him.
But nevertheless, Wyatt went off in a losing effort. So how much does it mean? How troubled is Indiana's defense going forward?
Answer: Not very.