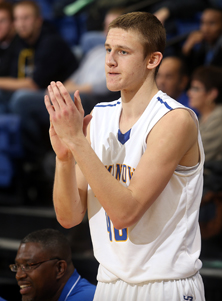 At last month's Derby Festival Basketball Classic in Louisville, 2013 Germantown (Wis.) forward and Indiana signee Luke Fischer said he wasn't concerned about where he fell in the national rankings.
"It doesn't really bother me that much at all. I really don't care about rankings," he told Inside the Hall. "They don't really mean much to me. I've just always gone out there and played and have done my own thing."
Despite leading his high school to two straight undefeated state championships and winning Mr. Basketball, Fischer isn't included in the Rivals.com or Scout.com top 100.
But one of the three major services, ESPN, took notice of Fischer's production as a senior and gave him a major bump in its final 2013 rankings that were released on Wednesday.
The 6-foot-10, 210-pound big man jumped from No. 67 to No. 34 after averaging 21.3 and 9.5 rebounds as a senior.
Three other IU signees — Noah Vonleh (13), Troy Williams (54) and Stanford Robinson (99) — were also included in the ESPNU Top 100.
Indiana's class ranks No. 4 nationally behind Kentucky, Kansas and Memphis.
Oladipo, Zeller hold steady in mock drafts
With the passing of the NBA's early entry deadline for the draft on April 30, several publications have updated their mock drafts and Indiana junior Victor Oladipo and sophomore Cody Zeller are unanimously in the lottery.
The NBA will hold its annual combine later this month in Chicago and the event will air live on the following times and dates:  10 a.m. May 16, ESPNU;  2 p.m. May 16, ESPN2; 10 a.m. May 17, ESPNU; 2 p.m. May 17, ESPN2.
Here's a look at where each player is currently projected: