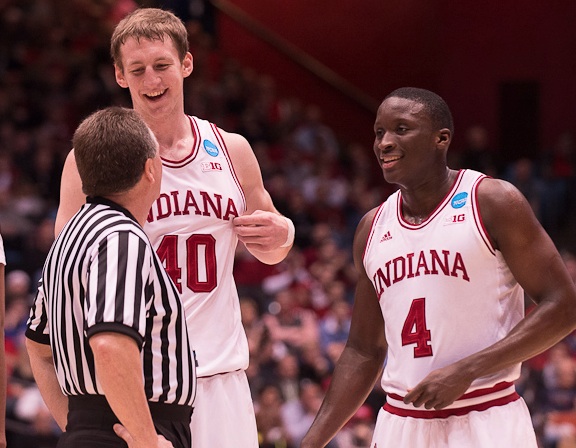 With the combine complete and the lottery taking place tomorrow, it's time for an updated look at the prospects for Cody Zeller, Victor Oladipo and Christian Watford in next month's NBA Draft.
In our latest update, we'll walk you through the latest projections for each player as well notes and measurements from the combine for Zeller and Oladipo:
Cody Zeller
ESPN: (12) Draft Express: (9) NBADraft.net: (4)
Combine measurements and testing results:
· Height w/o Shoes: 6′ 10.75"
· Height with Shoes: 7′ 0.25"
· Wt.: 230
· Wingspan: 6'10.75″
· Reach: 8'10"
· Body Fat: 4.75
· Hand Length: 8.5
· Hand Width: 10.5
· 3/4 sprint: 3.15
· Lane agility: 10.82
· Modified lane agility: 2.69
· Standing vertical: 35.5″
· Max vertical: 37.5″
· Analysis: After drawing more scrutiny than any other player during the college hoops season, Zeller stepped onto the floor on Friday at the combine and stood out in the testing against his peers. His standing vertical of 35.5 inches was the best ever recorded at the combine for a player 6-foot-9 or taller. Zeller also fared favorably in the 3/4 sprint, lane agility and modified lane agility tests. Zeller was criticized for his play against Syracuse in the NCAA Tournament, but his athleticism really stood out at the combine and that should help him move up in the draft.