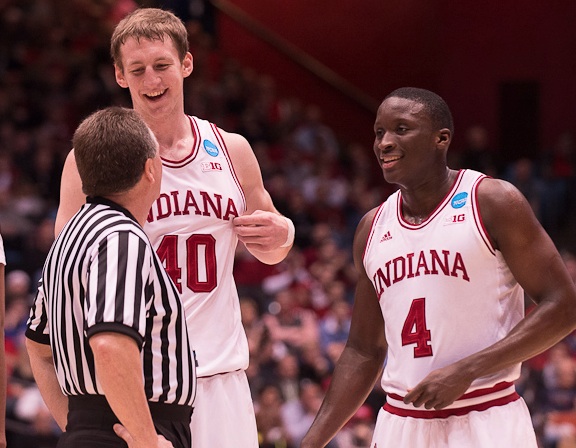 Just one week remains until the 2013 NBA Draft and with several mock drafts updated this week, it's time for another look at where Cody Zeller and Victor Oladipo are currently projected to be selected as well as some recent buzz on Christian Watford.
Victor Oladipo
ESPN: (2 to Orlando) Draft Express: (5 to Phoenix) NBADraft.net: (7 to Sacramento) SheridanHoops.com: (2 to Orlando)
· Analysis: Oladipo worked out Wednesday in Cleveland along with Ben McLemore, Otto Porter and Jamaal Franklin. He's also worked out for Phoenix and Orlando, the two teams most frequently mentioned as potential landing spots, and declined a workout for the Washington Wizards, according to The Washington Post. ESPN.com's Chad Ford said Tuesday on Sportscenter that the Cavaliers haven't decided which direction they'll go with the No. 1 pick and the fact that Oladipo, McLemore and Porter were all brought in this week seems to indicate the franchise is doing its due diligence. That said, Ford is still projecting Nerlens Noel at No. 1 while adding that Oladipo has the upper hand over McLemore at No. 2 to Orlando.
· Expert Opinion: "With a potential hole at shooting guard to fill, the Magic have their choice of Ben McLemore and Oladipo. Both guards represent better value and have higher ceilings than Trey Burke. The current preference is Oladipo, who projects as a better defender and is a better athlete than McLemore. Although McLemore has been as high as No. 1 in our mocks, Oladipo looks to be making a push. Considering Orlando GM Rob Hennigan came from Oklahoma City, going with a player that has a high upside, high character and is very long and athletic makes the most sense. While Oladipo has continually risen up NBA draft boards, McLemore has started to slip a bit, and that could see him fall more than initially anticipated." – SheridanHoops.com.