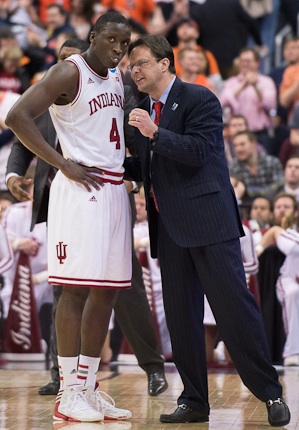 Tom Crean addressed the media earlier this morning via teleconference to discuss Thursday's NBA Draft. On the call, he discussed several topics, including Victor Oladipo's work ethic, Cody Zeller's game translating to the NBA, Christian Watford's future and more.
Here's the complete transcript of his comments, via ASAP Sports and IUHoosiers.com:
COACH CREAN: Thank you everybody for joining like this right in the middle of our basketball camp. We had a great night last night, relatively short night by the time everything got finalized with Christian Watford. But, nonetheless, a great, great night for everybody in Indiana, but most importantly for Victor Oladipo and his family and Cody Zeller and his family.
I think the fact that both of them went the way they did speaks volumes about their work ethic, about their character, about the intensity and competitiveness that they have. And in my mind as a coach, the greatest thing about the two of them moving forward is the upside, the tremendous upside that both of them still have. Because Victor just turned 21 in early May, and Cody's not 21 until October.
So there is a tremendous amount of growth in those guys that we've had the privilege of being a part of the last couple of years; and I think that their coaching staffs, management staffs and the fan bases in both Orlando and Charlotte are going to be really, really excited, not only about what they do on the court, but I think they're going to be blown away by what those guys are capable of in making people feel invested and a part of the program the way they're going to be in their communities in the states as well. So I'm excited to watch all of that play out too.
Q. Victor's reputation as an extremely hard worker is well known including here in Florida. But can you cite some examples of just how much of a hard worker he is?
COACH CREAN: Yeah, I can. In the three years that he was here, especially during the season, there might have been two days that he took off. One of them I told him not to come in. I'm talking about not just after a game or before a game or on a day off or at the end of practice, I mean, every day he came to work.
It started when he first got to Indiana. When he and Will Sheehey who is from Florida, became two freshmen that walked in and utilized our new building and started working on their games until the last day Victor was here until he headed back to D.C. two days after graduation and all that time in between.
He is an extremely gifted athlete, tremendous charisma, and just strength of will and personality. But when he gets in the gym, it is all business, and that is exactly what propelled him to so many different things. I mean, it was just common for us to practice and if we ended practice and weren't going into films or the weight room, he stayed in the gym. Put his cones up and started to work on different things, with a coach, without a coach, with a graduate manager, and work on his shooting. Even if we went to weights and to film, he always came back out.