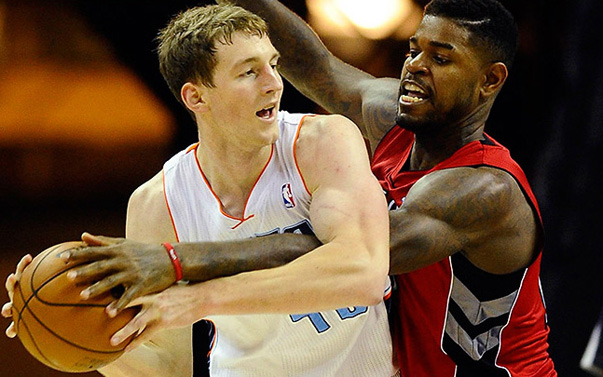 "Rookie review" is Inside the Hall's in-depth look at the debut NBA season for Indiana's 2013 NBA draft lottery picks, Cody Zeller and Victor Oladipo. We'll recap the rookie season of both players as well as look to the future both from a team and individual perspective. First up: Zeller.
In a decision that was a surprise to many, the Charlotte Hornets, known as the Bobcats at the time, took Cody Zeller with the No. 4 pick in the 2013 NBA draft last June. Going into Zeller's sophomore season at Indiana, many had pegged him as a potential No. 1 overall pick, but his stock had fallen somewhat and most projections had him going in the bottom half of the lottery.
But after a strong NBA draft combine showing and encouraging workouts, the Hornets snagged Zeller at No. 4, the first move of an offseason that would also include the signing of free agent Al Jefferson and the re-signing of veterans Gerald Henderson and Josh McRoberts.
Suddenly, the franchise had a team that could compete for a playoff spot in a depleted Eastern conference. And for Zeller, unlike many rookies drafted that high in the lottery, Charlotte's offseason moves, particularly the acquisition of Jefferson, would allow him to be eased into the rotation surrounded by a solid core of veterans.
The numbers
- Regular season: 6.0 points, 4.3 rebounds, 1.1 assists, 0.5 steals, 0.5 blocks, 42.6 FG%, 73.0 FT%, 13.12 PER, 17.3 minutes in 82 games.
- Postseason: 2.0 points, 2.3 rebounds, 0.8 blocks, 0.5 assists, 33.3 FG%, 50.0 FT%, 13.3 minutes in 4 games.
With Jefferson and McRoberts already established in the frontcourt, Zeller was brought along slowly by first-year head coach Steve Clifford and was primarily used as Charlotte's first big man off the bench who provided energy.
After a first half of the season that was viewed as a bit of a disappointment, Zeller began to take off after the all-star break: